Cooler Master Gemin II M4 Low Profile Heatsink Review
Author:

Dennis Garcia
Published:
Friday, August 24, 2012

Introduction
One of the biggest challenges facing system builders is what aftermarket heatsink defines their build as a product. Do they go with an ultra tower design with loads of cooling capacity? Or pick a smaller design with whisper quiet fans and timid demeanor?? We suspect the fashion show nature of aftermarket components can have some influence when it really should be about system design and chassis size.

What makes this scenario interesting is that most system builders are using a tower style cases with an unlimited supply of heatsink options to choose from. On the flip side when building a HTPC or any half height desktop system those choices get reduced to almost nothing. That is, until now! In this review we will be looking at a new low profile cooler from Cooler Master called the Gemin II M4.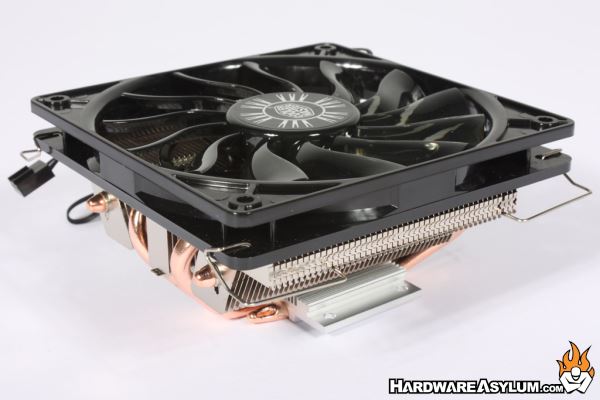 The Gemin II M4 is a very compact heatsink that features four individual direct contact heatpipes and single plane radiator. What makes this heatsink unique is the overall size which measures in at only 59mm tall even with the 15mm thick fan installed.

We have seen four heatpipe coolers before and they will often maximize cooling exposure by bending the pipe into a "U" configuration. This allows the heatpipe to cool from both ends while the heat is applied in the center. Rarely do you see heatpipes in a "C" configuration unless the runs are short and you are attempting to minimize the radiator cross section. The Gemin II M4 features both of these design elements and combines them together quite nicely.
Across the top of the heatsink you will find a specially designed 120mm x 15mm cooling fan that features the same turbine blade designed used on the V6 GT and X6 Elite. The blade design captures outward escaping air and attempts to direct it downwards in a vertical column. Based on our observations the design has worked out nicely and operates with a minimal amount of noise.