Cooler Master Masterliquid ML240 Illusion AIO Cooler Review
Author:

Dennis Garcia
Published:
Wednesday, October 13, 2021

Conclusion
The Cooler Master MasterLiquid ML240 Illusion is an interesting AIO cooler that is building on the dual chamber design. Externally the cooler is identical to the ML280 Mirror with the hoses positioned in a neutral location that not only helps with installation but keeps things nice and tidy from a visual standpoint.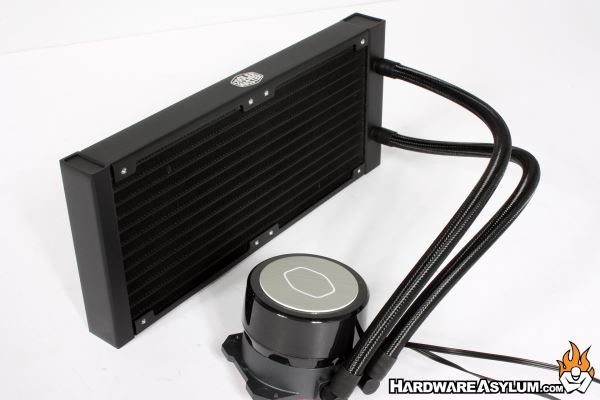 I found installation of the MasterLiquid to be extremely simple to use. The universal mounting system was easy to install and the process is virtually identical between LGA 2XXX and LGA1XXX systems. Simply install the standoffs and away you go.
During my testing I discovered that the Cooler Master MasterLiquid ML280 Mirror can handle and good amount of heat and was surprising given the smaller 240mm radiator. The new radiator design worked extremely well and is a perfect match to the Masterfan MF120 Halo fans. These fans provided just the right amount of airflow and were not noisy until they needed to be.
The overclocking tests put the most stress on the cooler and despite the elevated temperature, everything worked great without any noticeable pump noise and rather efficient heat transfer through the radiator. At the 5.2Ghz level the cooler did start to suffer from heat soak which lead to higher than expected temperatures and the reason for the rise in the C/W rating.
Of course, nobody buys an AIO watercooler named Illusion without expecting something magical, and the RGB lightshow is quite amazing.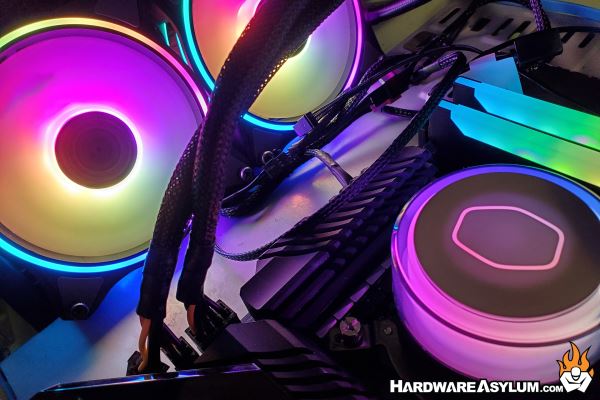 The Masterfan Halo's offer double the ARGB lighting with light strips at both the hub and outer ring of the fan for double the lighting effects.
However, the real star of the show is the translucent cover of the ML240 pumpblock. When the lights off this looks like any other dark plastic cover, it feels solid and rather unassuming. With the4 RGB lights enabled this plastic cover transforms completely with a very dynamic light show without any LED banding.
Overall I am still very impressed with the MasterLiquid ML240 Illusion and wouldn't hesitate recommending it. The lighting effects are amazing and work well with the included Halo fans. One thing I did notice is that the fans and pump block use a non-standard RGB tail and will require the included adapter cable to work correctly. These can plug directly into the control box or you can route the RGB to your motherboard. Both work equally well but with a completely different level of commitment when it comes to cable routing. (Motherboard option is easier)
In terms of performance the ML240 Illusion worked extremally well on my Core i9 10900K and supported a light 5.2Ghz overclock. Despite this, I wouldn't recommend this cooler if you plan to run an overclocked system as the radiator can become saturated at the higher heat loads. A Core i7 or Core i5 would be a better match when it comes to overclocking and whatever the AMD Ryzen equivalent might be. (Hint: look at the TDP)
Good Things
Quiet Operation
Unique Pumpblock Design
Quick Installation
ARGB Lights and Illusion Effect
Dual RGB Ring Halo PWM Fans
Braided Hoses
Bad Things
RGB requires an adapter cable
Swapping fans can be difficult