Cooler Master NotePal A200 Laptop Cooling Pad Review
Author:

Dennis Garcia
Published:
Wednesday, May 01, 2013

Introduction
Heat has been a difficult problem to solve in the mobile computing space and as we have seen in the desktop world as processors get more powerful so does their heat generation. To combat this heatsink manufactures have gone to great lengths to make coolers more efficient and quieter. In the laptop world things are not so easy and to combat heat two things have occurred. First is more efficient hardware that generally runs slower than the desktop counterpart and second, more efficient heatsinks. Of course, it doesn't matter how well your heatsink works unless you can get proper airflow and, with a notebook, that is often easier said than done.

In this review we will be looking at the new Cooler Master NotePal A200 Laptop Cooling Pad. Much like a case fan in your desktop chassis a cooling pad works by promoting good circulation so that the air being sucked in is fresh and cool. Cooling pads also double as a thermal barrier between your notebook and the surface it is resting on. Either it be a desk or your lap, some separation will prevent unsightly heat related stress is often needed.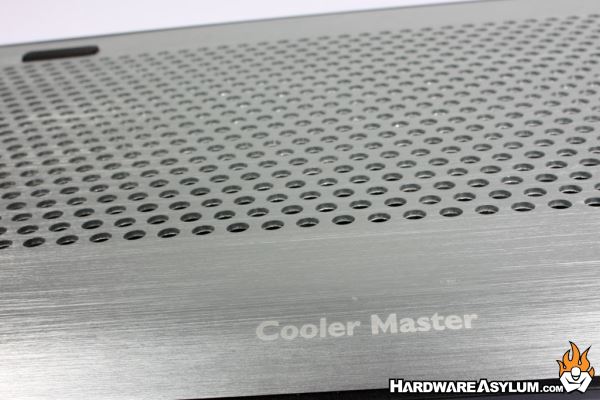 The Cooler Master NotePal is a bi-material cooling pad composed of a formed plastic base covered by a thin aluminum panel. The panel is perforated and you'll find four rubber pads on each of the corners to help prevent items from slipping off. These seem trivial until you consider that many devices don't have rubber feet of their own.
Flipping the pad over you'll see the two large fan openings. The fans are 140mm x 15mm variable speed units moving 92CFM at their highest setting. Despite this they are rather quiet measuring in at 28dBA.

Both fans are powered by a small two port USB hub located along the righthand side of the NotePal. Cooler Master has included a small USB cable and all you need to do is connect the NotePal to your device and the cooling fans will begin working.
As we mentioned before the 140mm fans are variable speed and will spin between 700 and 1200 RPM using the built in fan controller located near the USB hub. For us the mid speed setting seemed to work quite well and undetectable over the laptop cooling fan.

Laptops are notorious for their lack of ergonomics and often favor curb appeal over wrist position. With the Cooler Master NotePal A200 you have the choice to tilt your device a full 1.25 inches in the back (or front if you so desire) by flipping out the stands located along the back. Not only does this improve airflow but also raises the keyboard and screen for easy access.

Conclusion
The Cooler Master NotePal A200 is a rather elegant device that builds on the long line of laptop cooling products that they offer. Not only is the device extremely light but is also very compact for easy storage and transport. The dual 140mm cooling fans are extremely quiet and given their size will accommodate any laptop up to 16 inches. Both fans are USB powered and as an added bonus you'll find a built in fan controller and dual port USB 2.0 Hub onboard.

Unlike some of the other cooling pads we have used the NotePal A200 features a lightweight aluminum top panel for strength and style. Sadly due to the bi-material construction the A200 is prone to creaking when you move it around. The rattles are weight related and go away when the device is loaded. Despite this the construction is excellent and considerably stronger than you would imagine given the total weight.

Good Things
Lightweight
Aluminum Top Panel
Dual Cooling Fans
Fan Controller
USB Hub
Bad Things
Has a few rattles when moved