Deepcool Gamer Storm Assassin Heatsink Review
Author:

Dennis Garcia
Published:
Friday, August 09, 2013

Conclusion
When reviewing heatsinks we often have to look beyond the numbers and take a subjective look at the entire cooler. The Deepcool Assassin is an extremely good heatsink but is plagued with a classical problem unique to dual tower designs. Under normal operation airflow will pass thru the radiator and exhaust into the chassis, in single tower designs this is rather efficient and having a second fan present helps speed things along, the downside is less surface area. Dual tower coolers give you more surface area and the opportunity to use up to 3 fans to cool the heatsink assembly. The problem lies when the heat removed from the first tower passes thru the second tower. At this point your ambient temperature has risen and the heatpipes lose their efficiency.

You can see the impact of this when comparing the single and dual fan temperatures between the default and overclocked heat tests. When the processor wattage ramped up the secondary fan no longer helped cool the processor. The C/W rating still shows that the heatsink can handle more but overall efficiency should be better considering the size of the cooler.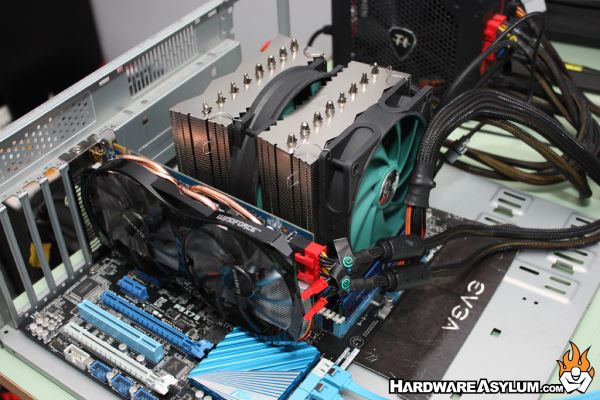 Heatsink installation went incredibly well and was actually quite simple thanks to the universal mounting system. Despite having two basic levels there is only a single set of screws holding the main retention clips in place which allows you to install this heatsink on a variety of systems using the same basic instructions. We did have a little trouble getting the fans installed due to the funky spring clips however, after getting the first fan installed the second went rather quick.

It should be noted that the center 140mm fan spins at 1500rpm while the outer 120mm fan spins at 1200rpm. This allows the center fan to move more air and prevents them from creating a resonance under normal operation. For those looking to build a silent system Deepcool includes 7v fan adaptors which will force the fans to spin at a lower peak RPM. We were never bothered by fan noise even with both fans spinning at full tilt so using the LNA will be on a per-case basis.

Good Things
Extremely Large Heatsink
Dual Fans Included
Low Noise Adaptors Included
Universal Mounting Hardware
Eight Heatpipes
Excellent Performance
Bad Things
Dual tower design
Large heatsink may not fit in most cases
Requires standard height memory modules
Ninjalane Rating