Deepcool Gamer Storm Assassin Heatsink Review
Author:

Dennis Garcia
Published:
Friday, August 09, 2013

Introduction
High-end cooling solutions come in a variety of styles with some designed for best in class performance while others give you the silent treatment. The important thing to note is that cooler designs have inherent benefits and problems that work hand in hand.

In this review we will be looking at the DeepCool Gamer Storm Assassin heatsink. The Assassin is a dual tower cooler that utilizes eight massive heatpipes to cool just about any processor you can imagine. As you can imagine the heatpipes are "U" shaped and connect each of the towers along the baseplate.

There are many unique features found on the Assassin. Each of the towers features a dual texture with the outermost part having a diamond plate texture while the interior side of the tower is serrated in a shark teeth formation.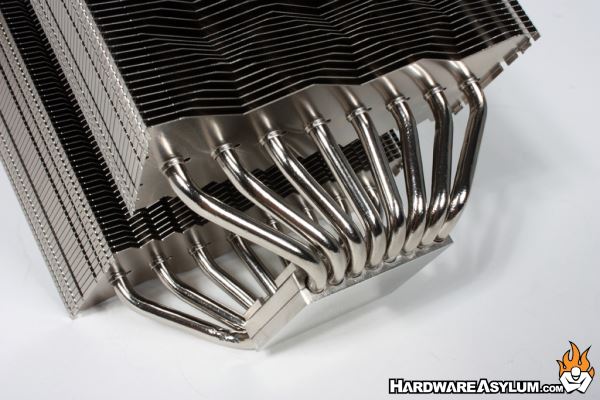 The edges of each tower is sealed off using the radiator locking tabs which we have found promotes channeled airflow thru the radiator independent of fan position. As you can see from the photos each tower is angled to provide more surface area and likely provide some more ornate details to look at.
Each of the eight heatpipes is centered over the baseplate which has been enlarged to accommodate them all. The heatpipes have been equally spaced along the radiator and will enjoy direct airflow exposure.

The baseplate itself has been polished and plated to provide a durable and tarnish free mounting surface.