SilenX EFZ-120HA5 Heatsink Review
Author:

Dennis Garcia
Published:
Wednesday, February 29, 2012

Introduction
Early on Intel made the decision not to include an OEM cooler with their LGA2011 processors. While there was widespread speculation as to why, it is safe to say that most users using the LGA2011 would never use the OEM cooler in favor of an aftermarket solution. Of course the biggest problem with aftermarket heatsinks is making sure you pick the right one for what you intend to do. Most enthusiasts have their favorite brands that provide a good mix of cooling performance and noise but these can be expensive for the mainstream user who may be looking for a simple sink with no overclocking agenda.

In this review we will be looking at the SilenX EFZ-120HA5 heatsink. Despite the strange name this is a simple tower style cooler with a single 120mm fan and three core contact heatpipes.

The EFZ-120HA5 comes with a good number of unique features including a wave pattern to the edges of the radiator fins, a texture applied to the surface of each fin and a locking pattern that blocks air from escaping out the side. These are not "new" features by any means but this might be the first time we have seen all of them on a single cooler.

We mentioned that this was a core contact design meaning that each of the three heatpipes is directly exposed to the CPU. This gives you instant heat transfer but is often plagued with a limited heat capacity, depending on your fan configuration. You'll notice that the heatpipes are staggered as they enter the radiator so to provide maximum exposure to oncoming air.
The cooling fan is a modest 120mm unit moving a maximum of 86CFM @ 24dBA while spinning at 1600RPM. Sadly this is not a PWM fan and features a single 3pin fan header making it nothing more than a repurposed case fan.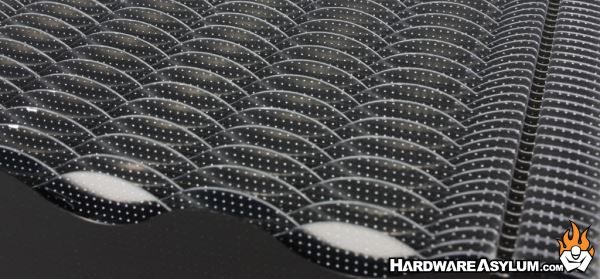 A close-up of the radiator shows the fin texture. Most heatsink designers will tell you that you don't need a texture on the fins and that moving more air thru the assembly is the only way to increase the cooling capacity. We like to think that any time you can increase overall surface area you thusly increase cooling capacity in addition to airflow.