Noctua NF-A14 FLX and ULN 140mm Case Fan Review
Author:

Dennis Garcia
Published:
Friday, May 03, 2013

Introduction
Aftermarket fans come in a variety of different configurations with size being the most distinctive. As we have mentioned many times larger fans tend to perform better because they can move large amounts of air without excess noise. Of course, there is also a physical limitation in how much air can be moved so the challenge is finding a balance between overall performance and noise output.

Cooling enthusiasts will be familiar with the name Noctua as being one of the premier companies dedicated to creating high quality cooling gear and takes pride in knowing they are also the quietest. We have reviewed a few Noctua fans in the past and found them to be extremely well crafted but felt a little underpowered when compared to the larger and more powerful counterparts. Therein lies the compromise, you can have a powerful fan that moves a great deal of air or you can find something with a less aggressive cooling profile where noise control is a primary factor.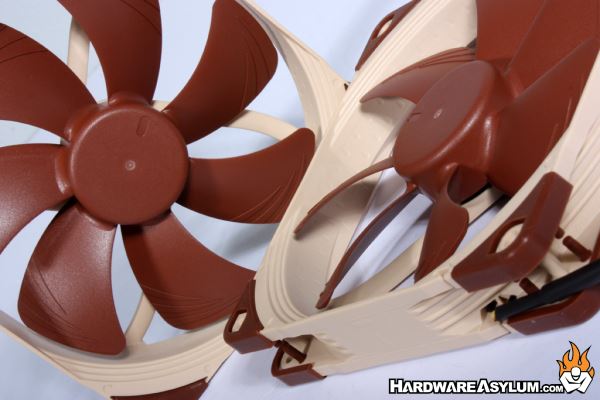 In this review we'll be looking at some new case fans from Noctua called the NF-A14 FLX and NF-A14 ULN. Both fans share a common form factor, have identical frames and even come with the same technology so, what makes them different.

Let's look over the specs and find out.
Fan Specifications
Noctua NF-A14 FLX
Size 140x140x25 mm
Connector 3-pin
Bearing SSO2
Blade Geometry A-Series with Flow Acceleration Channels
Frame Technology AAO (Advanced Acoustic Optimization)
Rotational Speed (+/- 10%) 1200 RPM
Rotational Speed with L.N.A. (+/- 10%) 1050 RPM
Rotational Speed with U.L.N.A. (+/- 10%) 900 RPM
Airflow 115,5 m³/h
Airflow with L.N.A. 101,9 m³/h
Airflow with U.L.N.A. 88,7 m³/h
Acoustical Noise 19,2 dB(A)
Acoustical Noise with L.N.A. 16,4 dB(A)
Acoustical Noise with U.L.N.A. 13,8 dB(A)
Static Pressure 1,51 mm H2O
Static Pressure with L.N.A. 1,18 mm H2O
Static Pressure with U.L.N.A. 0,89 mm H2O
Max. Input Power 0,96 W
Max. Input Current 0,08 A
Voltage 12 V
MTBF > 150.000 h
Warranty 6 years
Noctua NF-A14 ULN
Size 140x140x25 mm
Connector 3-pin
Bearing SSO2
Blade Geometry A-Series with Flow Acceleration Channels
Frame Technology AAO (Advanced Acoustic Optimization)
Rotational Speed (+/- 10%) 800 RPM
Rotational Speed with L.N.A. (+/- 10%) 650 RPM
Airflow 79,8 m³/h
Airflow with L.N.A. 66,4 m³/h
Acoustical Noise 11,9 dB(A)
Acoustical Noise with L.N.A. 9,1 dB(A)
Static Pressure 0,69 mm H2O
Static Pressure with L.N.A. 0,42 mm H2O
Max. Input Power 0,48 W
Max. Input Current 0,04 A
Voltage 12 V
MTBF > 150.000 h
Warranty 6 years
For a full list of specs, features, FAQs and more please consult the Noctua website (
http://www.noctua.at
)