Noctua NF-A14 FLX and ULN 140mm Case Fan Review
Author:

Dennis Garcia
Published:
Friday, May 03, 2013

Conclusion
It is difficult to get excited about a fan when there are so many to choose from but when you find one packed with any number of technology features you tend to pay attention. When we first used the NF-A14 series fans we were surprised to hear the profound difference between the two offerings. The FLX design is what we would consider a good case fan for gaming PCs whereas the ULN edition may work best in a Home Theater PC or even a passively cooled desktop.

Of course with any device running at 19dBA you are bound to hear something if you listen and yet this sound of this fan was different. With many fans you'll notice some whine from the motor and a distinctive swoosh from the fan blades as they spin. However, with the Noctua NF-A14 the sound was muffled and resembled what you might describe as a light breeze. These sounds are further reduced to a near undetectable level when it came to testing the ULN version, so much in fact that our Asus test bench started to trigger the low RPM warning.

Fan performance is difficult to judge when it comes to case fans so we decided to use them in a few overclocking adventures to see how they worked. Out test of choice was to keep a X79 PWM heatsink cool while we ran a several 3DMark runs at 5Ghz. Under normal conditions the heatsink would be too hot to touch and we are happy to report that the FLX fan was up to the task of keeping things cool.

Sadly neither the FLX nor ULN fans in this review are PWM controlled and came with a standard 3-pin molex connector for power and RPM monitoring. This feature isn't a requirement for case cooling and on radiators where a constant flow of air is important. However, given that most motherboards are including PWM fan headers there is little excuse to use 3-pin fans anymore.

It should be noted that as of this review Noctua has announced PWM editions of the NF-A14 fulfilling the need for PWM control and more accurate cooling in the standard PC.
Good Things
Lots of Technology
19dBA Design
Noise Isolation
FLX Design for Power
ULN Design for Silence
Great for Watercooling

Bad Things
Not well suited for heatsinks
3-pin fan tail (PWM Model is Available)

Ninjalane Rating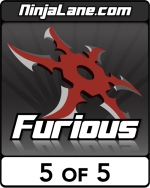 Noctua NF-A14 FLX and ULN 140mm Case Fan Review
Furious 5 of 5
https://www.hardwareasylum.com