Noctua NH-D12L Low Height Heatsink Review
Author:

Dennis Garcia
Published:
Monday, August 21, 2023

Introduction
There are several paths to take when it comes to CPU cooling and one of the most important aspects is to match your cooler to the type of processor you are running. High-end multi-core processors often demand the use of an AIO or DIY watercooling loop while mid to low-end CPUs can get by with the factory OEM cooler or just about anything in the aftermarket.
In this review we will be looking at the Noctua NH-D12L Low Height cooler. This is a dual tower cooler with a single 120mm fan located in the middle. Most tower coolers tend sit rather high to accommodate fans and provide clearance for memory modules and motherboard heatsinks. The NH-D12L is designed to provide the same cooling performance of a standard 120mm heatsink in a very compact form factor.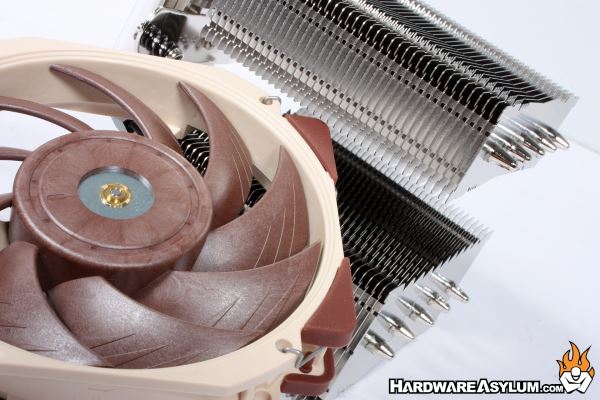 We have seen dual tower coolers before and the D12L from Noctua is fairly unique in that it features an asymmetrical design to the tower size. The primary cooling tower is much thicker than the front and thus offering more surface area for heat transfer and cooling.
You will find a total of five heatspipes running through the cold plate and connecting to each of the independent towers. This does have an impact on the cooling capacity by adding more surface area allowing dual tower coolers, like this, to operate with less noise and airflow.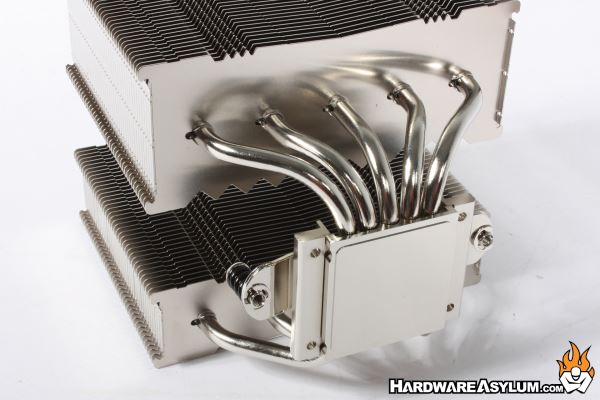 A good amount of cooling is handled along the edges of the radiator so it is important to create as much surface area as possible. On the primary tower you will notice a number of scallops along the leading edge that not only increase the surface area but also create gaps between the fan and the radiator.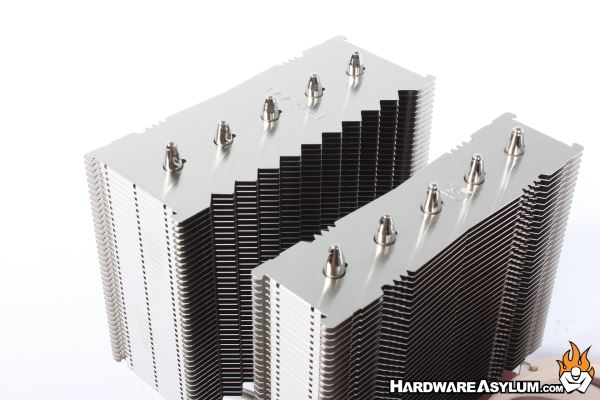 While this texture does increase surface area it also helps to lower harmonic noise created by the fan blades and turbulent air entering the radiator. Another feature to note on the NH-D12L are the edges of the cooling towers. These are completely sealed for additional strength and help to channel airflow through the radiator instead of exiting out the side. You'll also find "ears" along the fins to support additional cooling fans.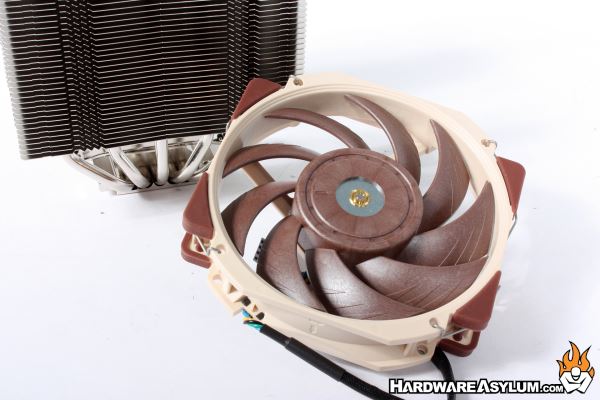 Speaking of fan, the Noctua NH-D12L comes equipped with a variation of the popular NF-A12x25 120mm x 25mm fan called the NF-A12x25r. The only major difference is the frame design being round and offering different mounting positions similar to the NF-A15 found on the NH-D15 cooler.
Aside from this, the fan offers the same performance and specifications.