Reeven Polariz Triple Channel Fan Controller
Author:

Dennis Garcia
Published:
Thursday, February 09, 2017

Introduction
Modern motherboards have come a long way when it comes to cooling options. Old boards might have come with one maybe two 3-pin fan headers which severally limited the overall cooling performance of that build. To make up for that casemodders would plug fans directly into the PSU or create elaborate fanbus systems to act as a fan distribution block. This allowed better cooling options using what was available.
Modern systems now come with a multitude of fan headers with PWM controls which can be mapped to certain system events. While this can be helpful for smaller aircooled builds they just cannot deliver the control needed to cool an elaborate multi radiator system where coolant temperatures run independent of system load.
In this review I'll be looking at the new Reeven Polariz fan controller. This is a triple channel unit meaning it will control up to three fans or three fan zones provided that the total output is less than 3.0A per channel (between 3 to 5 fans depending on power).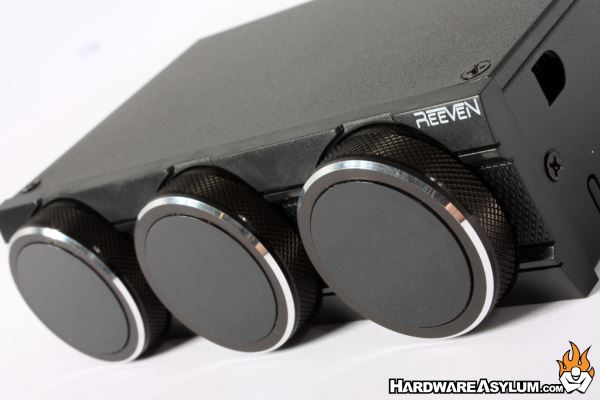 Along the front of the device you'll find three large round knobs. These control fan RPM while the centers illuminate to show fan speed in RPM, voltage going to that fan and thermal temperature based on a secondary probe that can be placed anywhere in the system.
Specifications
Model Number RFC-04
Dimensions (W)148 x (H)42.5 x (D)98mm
DC Input DC5V & DC12V
DC Output 4V - 12V(±10%)
Output Ampere 3.0A per Channel
Temperature Range 0-99C
Fan Speed Range 0-9990rpm
Weight 330g
The housing is made from metal and comes completely encased to hide all of the internal components.
Along the back you'll find all of the connections. As this isn't a PWM enabled controller all of the fan connections are 3-pin based with enough room to connect a 4-pin fan directly without interference problems.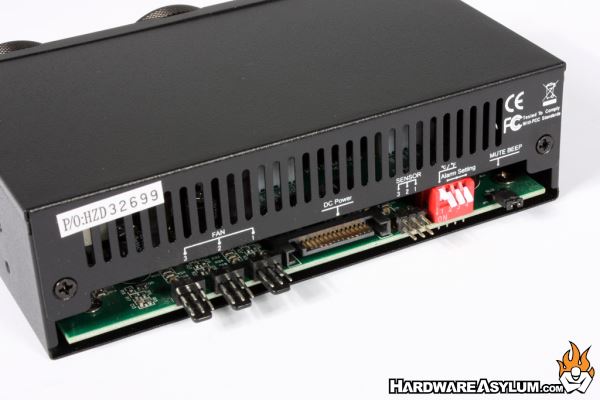 Power is supplied to the unit using a standard SATA power connection, located in the middle. The thermal probe connect vertically next to the power connector and if you wish to have an alarm go off when it detects a problem you can control that per channel using the set of red switches.
A jumper is also provided to disable the speaker which will also remove the auditable version of the temperature alarm.
Included with the Polariz you'll get a bundle of 3-pin fan leads that will accept both 3-pin and 4-pin fans along with a bundle of thermal probes that can be mounted anywhere you need to monitor temperatures. For instance knowing the temperature of the exhaust air from your radiator can let you know if more airflow is needed or if you can safely dial back fan RPM to lower the noise level.
Testing and Conclusion
In testing the Reeven Polariz I connected three fans and a single temperature probe and simply started using the controller. All of the fans were different and responded differently to voltage changes.
Speed controls were very smooth with no audible whine anywhere in the voltage range. The temperature probe is most accurate when physically mounted to a surface but did respond to air temperature changes making it good for both ambient and component temperature testing. Reeven suggests mounting the probes to anything you want a temperature.
In terms of usability I did notice that the dial didn't react as expected when turning the fans up and down. It was almost like it was slipping internally and not engaging the dial. This didn't prevent me from using the Polariz but did get annoying when I wanted to make a 0.5v change in fan speed.
Overall the Polariz worked as expected and is really stylish. Of course the only major drawback is the form factor. Given that you will require an external 5.25" drive bay it makes installation somewhat limited depending on your particular case. Or, if you are like me you could mod it into your chassis and really build something cool.