bequiet! Shadow Rock 2 Heatsink Review
Author:

Dennis Garcia
Published:
Wednesday, October 16, 2013

Introduction
We have reviewed a variety of heatsinks over the years and while the majority of them are designed for overclocking a select few focus on cooling efficiency without making much noise. Americans are more concerned with heatsink cooling performance that isn't always the case in other parts of the world. This is one reason why companies make two types of coolers and also why some high-end designs unavailable in compeiting markets or appear to be overpriced.

In this review we will be looking at the bequiet! Shadow Rock 2. This is a performance cooling solution that is designed to bridge the gap between a silent cooling and the inherent performance issues associated with silent cooling solutions. The Shadow Rock 2 is a large tower style heatsink that is constructed with four large diameter heatpipes, brushed aluminum cooling fins and fully machined copper baseplate. To keep costs down none of the metal has been plated but, unlike some untreated heatsinks the Shadow Rock 2 actually looks pretty good.

Overall construction is extremely good thanks in part to the thicker aluminum radiator fins and solid construction, In fact due to the material choices we have only noticed two areas where locking tabs were used to maintain proper fin spacing.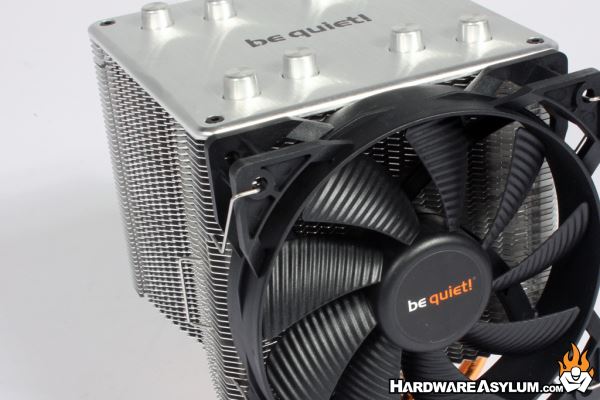 The Shadow Rock 2 only supports a single 122mm cooling fan and is designed for silent running with the aid of bequiet! SilentWings technology. The fan is rated at 24dBA @ 1600rpm under full load. You may notice that the fan has a unique set of mounting brackets that fasten to the center of the fan ring rather than the edges. Regardless of what benefits these provide they look pretty cool to look at.