bequiet! Shadow Rock 2 Heatsink Review
Author:

Dennis Garcia
Published:
Wednesday, October 16, 2013

Heatsink Installation
In the package you will find everything you need to install the Shadow Rock 2 including mounting rails for all of the major processor platforms, a universal back plate and thermal paste.

As with any installation you must first start with the included hardware. We'll be using the X79 LGA2011 system for our tests so some of the hardware such as the backplate and spacers will not be used. For specific installation instructions for your platform please consult the included users' guide.

The first step will be to locate the threaded risers and install them into the heatsink mounting holes around the CPU socket. These are 4mm threaded holes so be sure to match up the proper end.

Once the mounting rails have been installed you can apply some thermal paste to the processor and secure the heatsink. We prefer the 5-dot method with dabs in the illustrated configuration.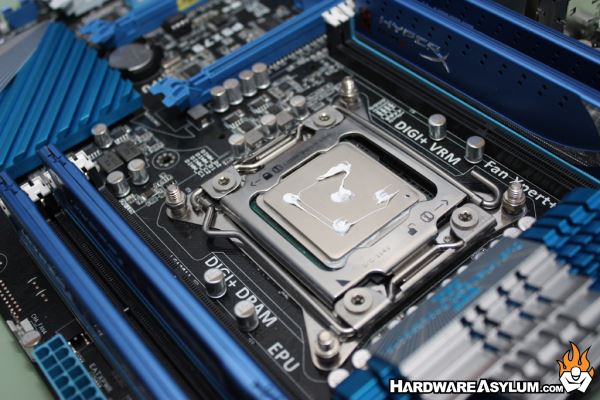 To secure the heatsink first line up the mounting rails with the posts you threaded into the CPU socket. Fan orientation is personal preference but we prefer to exhaust our heatsinks towards the back of the case.

Now comes the tricky part, to lock the heatsink in place you must install four nuts and secure them using the included wrench. We suggest progressively screwing each nut down until they stop. We found the process to be rather quick but, we also did the installation outside of a real chassis with only the memory installed.

In-place installs would be next to impossible so if you happen to get a Shadow Rock 2 for your birthday block out some time to tear the system down and remove the motherboard so it can be installed.