ThermoLab Trinity Heatsink Review
Author:

Dennis Garcia
Published:
Friday, March 18, 2011
Introduction
Modern heatsinks are designed with 3 things in mind, noise control, total performance, and compatibility. Compatibility is often an easy problem to solve, simply pick a platform and design board mounts to fit. Performance and noise control are often linked, since to get good cooling performance you must be efficient in transferring heat from one surface to another. The more efficient you are, the less noise you have from fan sources.

In this review we will be looking at a tower style heatsink from ThermoLab called Trinity. Trinity is a traditional heatpipe tower comprised of four 6mm Sintered heatpipes in the efficient "U" configuration. Of course heatpipe arraignment is extremely important to ensure the best cooling performance. To address this ThermoLab has staggered the 8 physical connections so that air will contact each of the pipes as it passes thru the aluminum radiator. From what we have seen this arraignment tends to work rather well.
Heatpipe coolers often come in two basic styles, "Core Contact" or what we like to call "Traditional". Traditional designs feature a certain amount of material between the heatsource and the heat pipe. Considering that heatsink capacity is dependent on temperature differences the extra material helps to keep the heat transfer working. Core Contact designs, like the one found on the Trinity, place the heat source directly on the heatpipe allowing the cooler to react quickly to temperature changes. The only downside to these designs is that total heat capacity is somewhat diminished.
The cooling fan is a 130mm 4pin PWM type which allows the RPM to be controlled by the motherboard. Themolab claims there are two modes available with a maximum speed of 1800rpm @ 32dBA. To help control vibration noise the fan has been rubber mounted to the radiator and is not easily removed.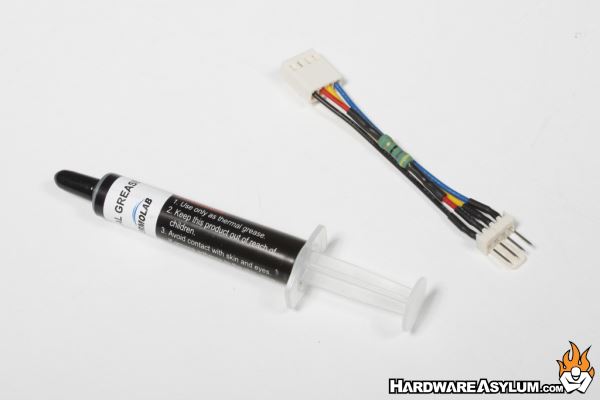 Silent mode is enabled using the included inline resistor module. We only suggest using this if your motherboard doesn't support the fan speed adjustments since the resistor can get quite warm to the touch.