Thermaltake GOrb II Notebook Cooler Review
Author:

Warren Young
Published:
Thursday, August 15, 2013
Introduction
I think Thermaltake's new motto should be, "We can rebuild it, we have the technology. Better than it was before. Better, faster, stronger." Sadly, I think the miles of legal copyrights on that slogan make that impossible, but it is quite applicable in the case of Thermaltake's GOrb II.
The original GOrb design helped improve the notebooks own ability to cool itself, allowing for more airflow underneath when the two halves were separated and placed under the back corners. The GOrb also set the notebook at a more ergonomic angle to work with, making it much easier on the wrists. Apparently, never one to rest on their laurels, Thermaltake has definitely added a pair of nice surprises in its latest incarnation, the GOrb II.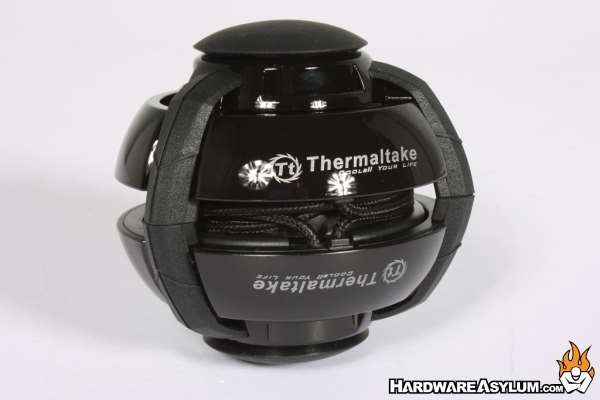 Along with all of the passive cooling and ergonomic benefits the original GOrb offered, the GOrb II now packs a pair of cooling fans, (one in each hemisphere running at an impressive 2200rpm) adding a quiet but effective amount of airflow to the original design. If the fans weren't enough, Thermaltake also added blue LEDs to each unit to provide some cool lighting effects.
The GOrb II is powered off a USB cable, which Thermaltake has incorporated a cable roller inside the unit to protect the cord. The USB plug itself has a pass-through port on the other end, so you don't have to sacrifice a plug to use it. You will find a power cord linking the two GOrb units that is just long enough to accommodate up to a 17" notebook comfortably.
Notebook coolers need to be compact for easy travel and the GOrb II does not disappoint. It is just as compact as the original GOrb with some great new features. Inside its clamshell carrying case, the unit is just slightly rounder than a digital camera, and packs away easily. The aluminum carabineer clip will also hook it securely to the side of any travel bag if you don't feel like packing it. Total weight is just over half of a pound making the Thermaltake GOrb II extremely lightweight when compared to other notebook cooling solutions.
In the end we found the Thermaltake GOrb II to be an excellent upgrade from the original design that really improve on this simple design. Setting up the GOrb II is extremely easy however, reassembling the unit for transport does take a little dexterity. Overall cooling performance is a vast improvement over the first generation GOrb with the added benefit that the two high speed fans can also provide ambient cooling for yourself and your notebook.
Available Images