Thermaltake Massive 14 Notebook Cooler
Author:

Dennis Garcia
Published:
Thursday, December 05, 2013
Introduction
Today's notebooks are leaps beyond what they once were, just as the modern desktop has far surpassed its original roots. Despite all of the advances in speed and power however, the age-old dilemma of heat management continues to be a hot topic if you want to get the longest life and best performance out of your gear you have to keep it cool. Unlike a desktop however, which can benefit from a larger chassis and some inventive dremel work, space inside the body of a notebook is at a premium, so the task of keeping those components cool requires some innovative solutions. Solutions that Thermaltake, a company known for their cooling components, is providing with their 'Massive' line of notebook cooling trays. Today, we'll be reviewing Thermaltake's new Massive 14 notebook cooler.
The Massive 14 weighs in at an impressively light 1.5lbs., measures an inch thick, and houses a pair of 14in. clear LED-lit fans capable of spinning up to 1100 RPM and pushing nearly 60 CFM between the pair while maintaining a quiet 22dB. The Massive can accommodate up to a 17" notebook, but anything larger really starts to spill off the sides and back.
The fan controls can be found on the left hand side of the Massive with a dial wheel to control the fan speed, and a toggle to control the LEDs. The fans are powered by USB using the provided cord and one of your available ports on your notebook. While one of your notebook's USB ports will be taken to power the cooler, the Massive does have an extra port provided, so the same number of available ports is retained.
The underside of the Massive has a pair of legs that fold out to provide both passive cooling, and an ergonomic typing angle to the notebook. The legs also have an additional middle joint that folds out to make them even longer, giving the Massive an additional angle to set your notebook at depending on your preference.
I found the angle the notebook sat with the legs fully extended to be quite comfortable over the normally flat position typical of portable computers.
Thermaltake has also added a pair of pop-out arms on top of the Massive for the notebook to rest against, and keep your system from sliding off of the cooler when angled. Each arm is an inch tall with rubber pads attached on the inside to help give cushion and grip. I didn't have any issues with the arms sticking over the top of my notebook base, but the height of the arms could interfere with hand placement on ultra-thin notebooks.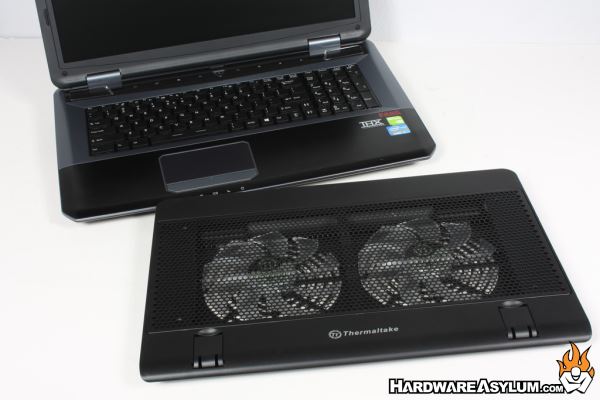 The Massive sits comfortably while on a lap, as well as on a surface. It can accommodate up to 17" notebooks comfortably, and the pop-out legs do allow a few different options allowing you to find a comfortable angle to work with. It's extremely lightweight and compact, coming in at slightly under 1.5lbs at only an inch thick. The size and weight make it easy to transport alongside your notebook in a travel case.
When the Massive is running and actively cooling, the LEDs are subtle, providing a soft under-glow without being obnoxious. While there was some noticeable fan noise at full speed they are far from distracting and actually blend well with the internal cooling fan. Keep in mind you also have the ability adjust the fan speed from an inaudible typical setting to something that may move papers around on your desk.
Overall, the Massive does its job well, providing both active and passive notebook cooling with the adjustable height legs and 14in fans. Combine this with an adjustable notebook angle and you also will get a comfortable typing surface for those long nights at the office or extended gaming sessions.
Available Images