Thermaltake SWAFAN RGB Fan Review
Author:

Dennis Garcia
Published:
Wednesday, December 21, 2022

Introduction
RGB is still extremely hot and while motherboard companies have dialed back the amount of RGB they provide there are still plenty of ways to make your PC light up in some pretty amazing colors. The trick is to find a system that will not only allow all of the lights to talk to each other but also allow them to synchronize without having to jump between software applications. We also want to make sure the software is easy to use and comes with the functionality you want.
In this review we will be looking at a new fan design from Thermaltake called the SWAFAN. These fans are designed to be high pressure radiator fans but are equally usable to replace any chassis fans you might have. In fact, I might recommend that chassis cooling be their primary usage.
more on that later.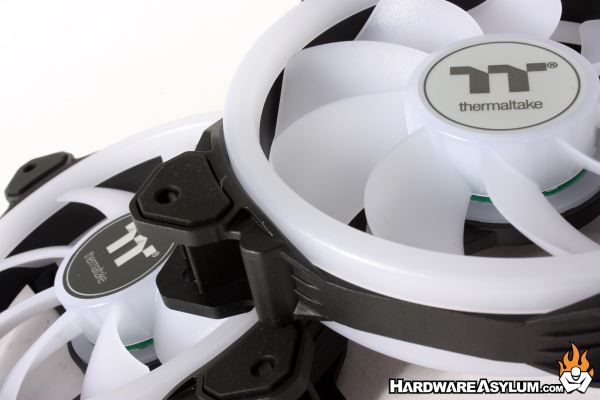 Of course, the real question is, what makes these fans unique and different from other fans.
In a word, reversibility.
These happen to be the first fan from Thermaltake that allows you to reverse the airflow by simply swapping the fan blades between a traditional flow (black center) to a reverse flow (white center). Depending on what fan center you install will allow you to customize how the air flows in your chassis without having to physically reverse the fan..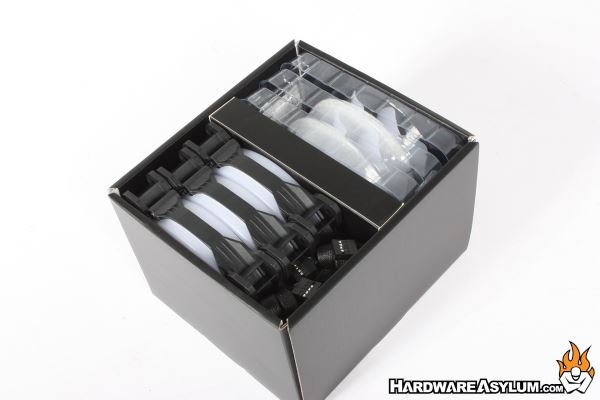 One feature that I particularly like is that with each three pack of SWAFAN fans you will get three fans with traditional blades installed along with three more packages with the reverse fans. This helps take the guesswork out of what fan you need and allows you to experiment with the different ways to install them. It also helps reduce expensive inventory making the fans much less expensive than they would be had Thermaltake offered two different SKUs.
(It also cuts down on users who rarely read documentation or know how a fan actually works. Of course, that would not include anyone reading "this" review

)
Here is a side by side of what the fan hubs look like and if you pay attention to the "Scoops" on the individual fan blades you can get an idea as to what direction they flow. Remember white "blows" air towards you while, black "sucks" air away from you.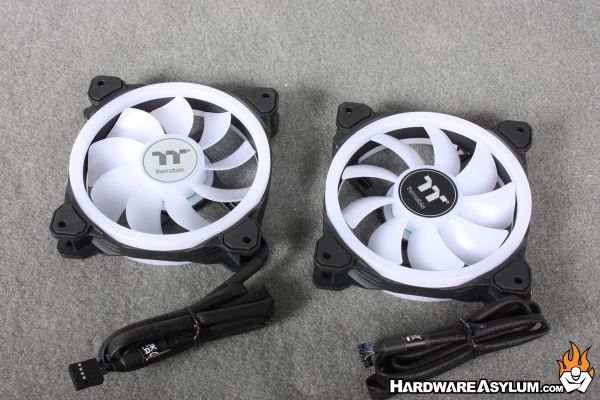 Each TT SWAFAN is a 0.7Amp design with a rated current of 0.27A supporting speeds ranging between 500 and 2000 RPM. Max airflow depends on what blades are installed. Traditional (black) blades provide 53CFM at 30.5dBA at full tilt. With the blades reversed (white) the airflow increases to 54CFM at 36dBA likely due to noise generated by the blades spinning past the motor supports.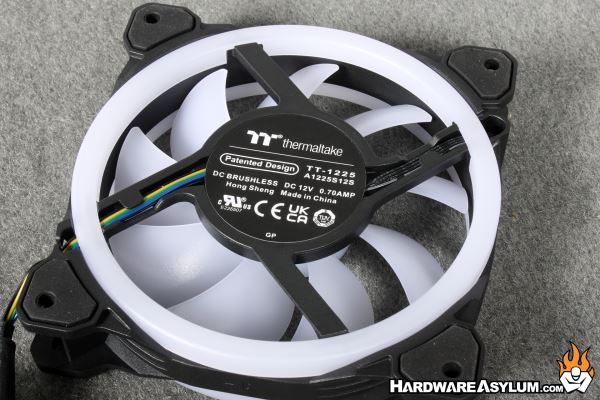 The Airflow can Swap, why should I need care?
Personally, in my computers I like to have air enter the front (right) side of the chassis and exit out the back (left). When applicable, I also like to have air exit out the top of the chassis. In my modified View 71 I created a custom panel to act as a fan shroud so to ensure that air was only exiting out the top instead of the normal "short circuit" where air actually never leaves the chassis.
Unfortunately, that also exposes the back of the fans which are fully visible through the tempered glass panels.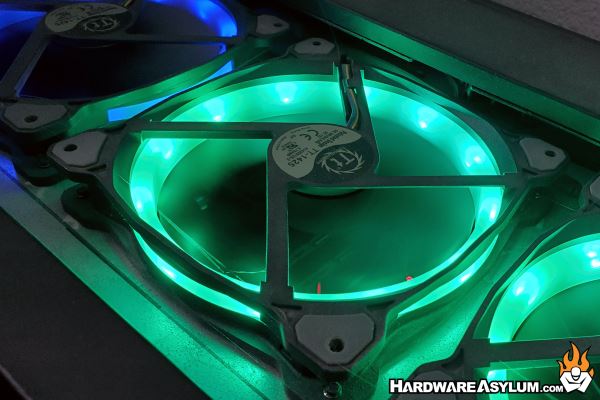 If I were use to SWAFAN's in this situation I could reorient these fans such that the motor was "inside" the chassis and the fan blades were exposed to the outside. With a traditional fan this would draw air into the case however, with the white fan blades installed the air will still exit giving me a completely clean look.
The primary idea here is that you should never need to see the back of the fan again while still having full control over the direction that air is flowing inside your build.
Included Goodes
As I mentioned with each three pack of SWAFAN fans from Thermaltake you get three fans and three fan blade hubs to reverse the airflow direction. You will also get mounting hardware and connection cables for the RGB control module.
Additionally, you also will get a small syringe of bearing grease to help lubricate the fans when you start swapping them around. You only need a small dab on the metal shaft of the fan. Just be sure to clean off the old before adding more.
The included RGB control box is a Thermaltake standard and is available with most of the RGB enabled Thermaltake products. Each control box supports up to five devices which are connected to the 9pin headers. Power and USB are connected along the side and the dip switches on the bottom allow you to connect several of these controllers together.
Of course, each fan has a similar 9pin plug which will control both the RPM and RGB lights.
RGB Sync Software
Thermaltake offers a small Windows app to control all of their RGB enabled devices. They call the software RGB Sync and for the most part it works pretty well.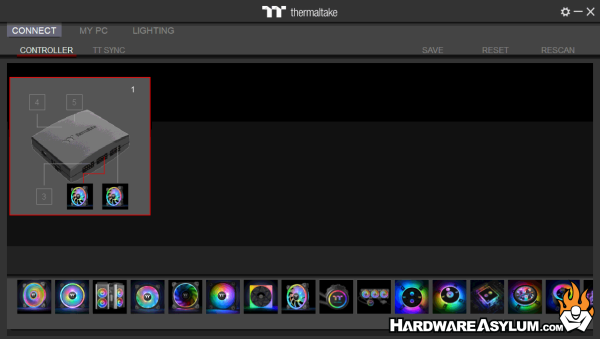 You start by doing the initial configuration by selecting what devices you have attached to the controller and this will need to be done for every port you are using. Here I selected the SWAFAN fans.
By making this selection you are telling the control what pins to activate and how many lights each device has and what patterns are available.
The next couple screens allow you to configure the LED lighting patterns, either by selecting some that are pre-configured or by selecting each light and telling the controller what you want it to do.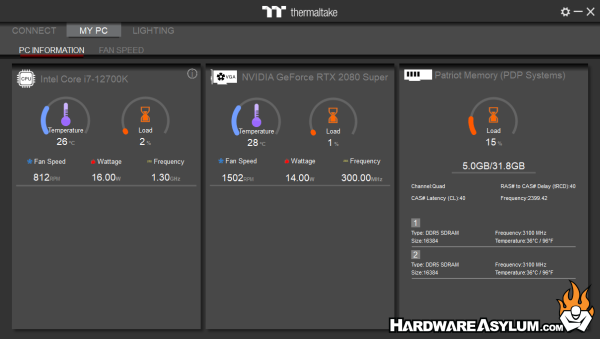 The final screen is your system stats. From here you'll be able to set fan curves based on certain conditions.
RGB Lights
Each Thermaltake SWAFAN has three lighting zones. One outer zone at the front of the fan with an identical zone at the back. The third zone is located at the motor, ideally to illuminate the translucent fans blades.
These are not ARGB and the total number of lights is not all that impressive but, they are extremely bright and the RGB Sync software does give you a fair amount of control.
Conclusion
Some would say that "fans are fans" and at a certain level they would be right. As you can imagine every fan is slightly different either offering a more powerful motor, more aggressive fan blades, higher CFM, higher pressure, strange colors, more LEDs, larger diameter etc. Every one of these specifications can change the overall performance of a fan or can make it useless for certain situations.
For the Thermaltake SWADAN 12 RGB Radiator fans featured in this review I feel they are pretty basic when it comes to overall specs with two areas where they really shine. First, the total number of RGB lights as these fans offer three rings of LEDs and are extremely bright. Second would be the ability to swap the airflow direction of the fan. This feature is HUGE when it comes to customizing your build allowing you full control over airflow in your chassis without compromising the overall look of your build.
The included control box is pretty good and a welcome addition if your build is fully compromised of Thermaltake products. Sadly, you are out of luck if you want to run independent light strips or fans from a different maker.
Along the same lines the RGB Sync software MUST be installed and running if you want to view your custom light patterns OR have any control over the fans. The current controller will default to a medium speed until the software loads however, if the software does not load you can easily overheat your system.
BTW with a little modification you can completely bypass these limits but requires reassigning inputs of the 9pin plug on the fan side. Drop me a line if you want to know more.
Finally, and I say this as an avid software developer, the RGB Sync software could use a lot of work when it comes to the User Experience. Granted, Thermaltake is not a software company so, we can let certain things slide however, there are several paths you can take when customizing your system that you cannot recover from. I have seen this before and is a classic case of designing software in a vacuum which is tested by the people requesting the features and not by the end users.
Overall, I find that the Thermaltake SWAFAN 3-pack fans are still pretty good, they flow a decent amount of air and once you find a RGB color pattern you like there is no reason to revisit the software. I find the swappable fan blades to be a very innovative feature and am glad to know that you can get these in both 120mm and 140mm variations. The software could use some work and the closed nature of the RGB and fans controls does limit how you can use these fans with products from other companies.
Good Things
Familiar Thermaltake Fan Performance
Three RGB Light Rings
Reversable Airflow Options
Fully Supports Thermaltake RGB Ecosystem
Bad Things
Software is difficult to use
Software must be running
Fans only work with Thermaltake controllers and software
Hardware Asylum Rating
Thermaltake SWAFAN RGB Fan Review
Recommend
https://www.hardwareasylum.com