Thermaltake Water 2.0 CPU Watercooler Review
Author:

Dennis Garcia
Published:
Friday, June 01, 2012

Introduction
As hardware enthusiasts we are always looking for better and more efficient ways to keep our systems cool. In the early days this usually included things like elaborate case mods to increase chassis cooling and exotic hardware cooling methods such as powerful CPU fans and even, the often mis-understood, watercooling loops. These days you no longer need to modify a chassis for better cooling and the DIY watercooling loops are still the best ambient level cooling you can get. The only problem is these large watercoolers can be expensive and are still difficult to install. So, what if you could get the benefits of a watercooling loop without all the hassle?

In this review we will be looking at two of the latest coolers from Thermaltake called Water 2.0 Pro and Water 2.0 Performer. These coolers are a self contained watercooling systems that are designed for simple installation with none of the dangers associated with the larger DIY watercooling systems.
Both coolers feature a self contained pump and block assembly that mounts directly to the CPU. The system is extremely compact with the pump assembly measuring 2.5 inches wide by 1.5 inches tall and features a copper insert that acts as the waterblock.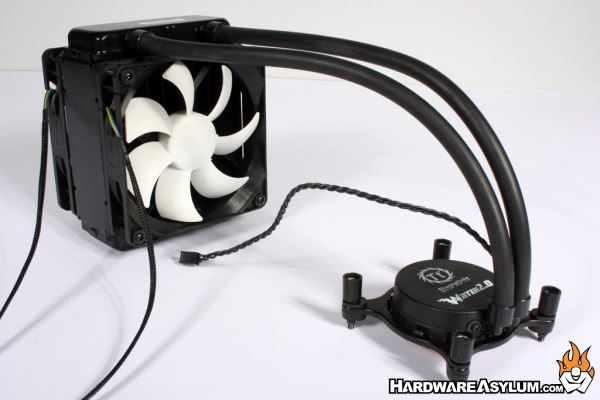 Each pump assembly is powered with a standard 3pin fan connector and a single inlet and outlet for water to pass.

The only major difference between the Pro and Performer is the size of the radiator. Performer is designed for lower powered systems and features a small 1 inch wide radiator that can fit two 120mm cooling fans. The Pro cooler doubles the radiator capacity at 2 inches and comes with the same two 120mm fan mounts.