Thermaltake Water 3.0 Riing RED 280 AIO Cooler Review
Author:

Dennis Garcia
Published:
Wednesday, June 21, 2017

Introduction
People often ask me what cooler they should use on a XYZ system using ABC processor. For me the answer is pretty straight forward but, I also have some rather in-depth knowledge about how much heat each processor produces along with cooler capacities, fan pressures and stuff like that. From the standpoint of a novice builder that question isn't so much something they need to know but rather a validation that they are getting good performance for their money.
In this review I'll be looking at one of the single most popular CPU coolers on the market the All In One watercooler. The unit in this review is the Thermaltake Water 3.0 AIO with a 280mm radiator accepting 140mm cooling fans.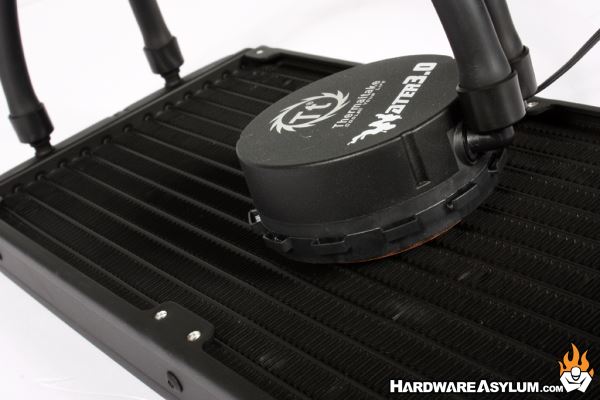 Strangely enough the last time I reviewed a TT branded AIO was back in 2012 which gives you a pretty good indication as to how long this style of AIO cooler has been around. In 2015 I revisited the Asetek AIO cooling lineup by doing a three-way round-up of their latest version with three different radiator sizes. 120mm,240mm and 360mm were used in that roundup and allows me to show how cooling performance can scale with more surface area and also that too much can actually have a diminishing return when it comes to cooling performance. Simply put the AIO pump isn't all that powerful and limits how effective larger radiators are when it comes to cooling performance.
There is one thing that makes the Thermaltake Water 3.0 Riing RED 280 unique and special and that is the inclusion of two 140mm Riing fans with RED LEDs. The cooler which includes the pump block, hoses and radiator is identical to any other third generation Asetek cooler with the only major difference being what fans are used. In this case it can become RGB LED enabled!
Bet you never thought a AIO cooler could be thrust into the RGB LED world by simply changing the cooling fan but, with the Thermaltake Riing fans anything is possible. Of course, this version is limited to a solid RED color but, it can be easily retrofit the cooler to support RGB LEDs by swapping the fan or, you could so the same by buying a standard Water 3.0 and then adding whatever fan you wanted.