Thermaltake Water 3.0 Riing RED 280 AIO Cooler Review
Author:

Dennis Garcia
Published:
Wednesday, June 21, 2017

Cooler Installation
The Thermaltake Water 3.0 comes with thermal paste pre-applied so once you have installed the plates required for your particular system you'll be ready to go.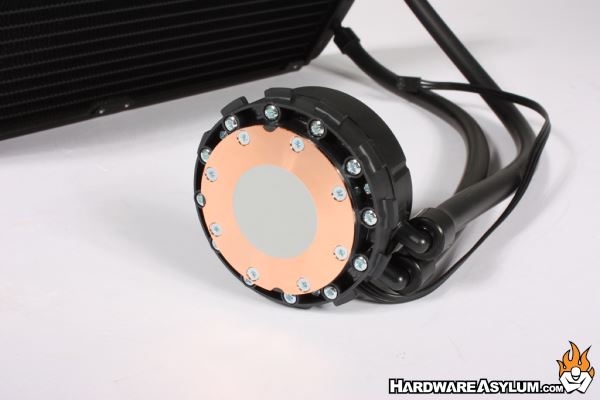 Installing the Water 3.0 is rather simple and since I have gone over it before I'll just explain the process and hope you all can follow along.
Prepare the Pump Block
To install the cooler you must install the appropriate mounting plate and on Intel systems that is the square one. The plate lines up on the pump block where the two types of fingers meet. That leaves an opening for the plastic ring so to keep the plate from moving.
If you look carefully you can see the plastic tab near the water hoses.
The final step is to install the pump block and secure it with the included thumb nuts. Run the nuts down until they stop in a progressive "X" pattern. I often suggest one full turn for each nut and move to the one directly across. You will continue to do this until they all stop moving.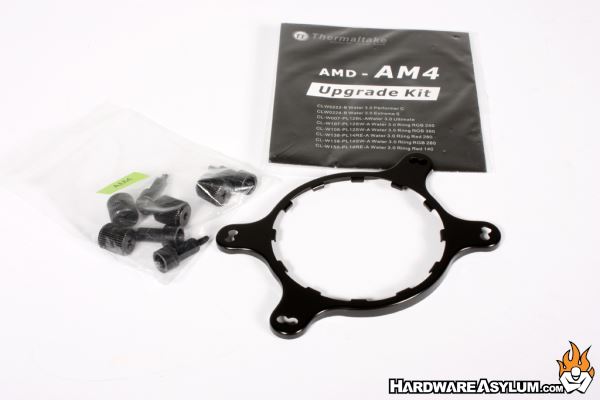 For those of you using the new AMD Ryzen or an older AMD platform the process is similar you just need to use the AMD plates that match your processor type. The AMD Ryzen (AM4) kit is pictured above.