Aorus Thunder K7 Mechanical Keyboard and Macro Keyboard Review
Aorus Thunder K7 Mechanical Keyboard and Macro Keyboard Review
Author:

Darren McCain
Published:
Tuesday, December 30, 2014

Introduction
The Aorus line of peripherals continues to supply some of the top enthusiast hardware we have seen. Today we will be looking at their latest keyboard, the Thunder K7 Mechanical Keyboard and Macro Keyboard combination.
Targeted at gamers and enthusiasts the Thunder K7 offers the flexibility of a detachable 10 key section paired with the award winning Cherry MX red switches. Custom configuration? Yes please!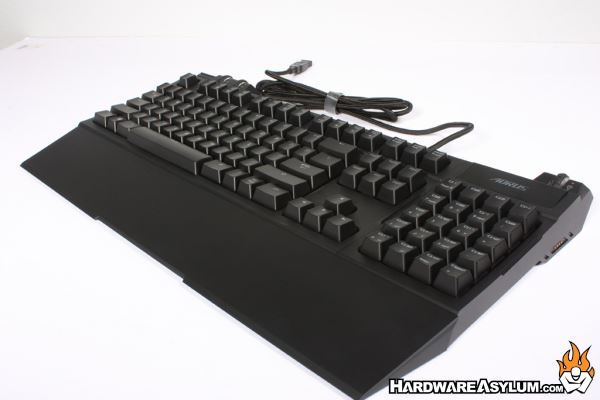 Aorus offers the Thunder K7 only in black with blue backlighting. This color combination seems to be the most popular on the market as is the choice of Red Cherry MX switches. The overall design is aggressive and angular bringing to mind recent Lamborghini designs.
Let's take a look under the hood!
Features
World's 1st Mechanical gaming keyboard with detachable Macro keys
Superior CHERRY MX Mechanical Key-Switch
Absolute Anti-Ghosting Multi-Key press Capability
AORUS Macro Engine
Specifications
Interface: USB 2.0
Activation: Cherry Red Mechanical Switch
Switch Life: 50 million times
Key Profile: Standard
Travel Distance: 4mm to the bottom
Activation Distance: 2mm to actuation point
Peak Force: 45g
Weight: 1500g ±10%
Dimension: 454(L)* 257(W)*45(H) mm
Cable Length: 2.0m ±10%
OS Support: Windows XP/ Vista/ Windows 7/ Windows 8
Certificate: CE, FCC, BSMI
Color: Black
Choosing your mechanical keyboard really boils down to identifying what type of Cherry MX switche you like the most. Blue tends to favor typists with a more tactile or "clicky" action. Blue can also make it harder to double tap but provides the most feedback in terms of touch. Reds require less force and tend to favor a softer touch which can also lead to accidental key presses but can be more responsive. Black switches are similar to reds but require more force to actuate the key. Black switches require 60 cN (centi-Newtons) of force to actuate, while the Red switches only requires 45cN. Browns tend to be a little bit of both. While they are less tactile, and less "clicky", they do have a feedback to them while still requiring less force than the reds. Green is a very rare switch type often referred to as a stiffer blue making its inclusion all the more notable. Green is both a tactile and a clicky switch often reserved for the space bar. You can both feel the tactile bump and hear the "click" that occurs when the activation point is hit.
Aorus may be a new name on the scene but Aorus is actually Gigabyte's new division focused on core gamers and enthusiasts. With a lineup featuring gaming laptops and peripherals Aorus is expanding to target everything a competitive gaming enthusiast may need.