Aorus Thunder M7 MMO Gaming Mouse and Thunder P3 Gaming Mouse Pad Review
Aorus Thunder M7 MMO Gaming Mouse and Thunder P3 Gaming Mouse Pad Review
Author:

Darren McCain
Published:
Monday, November 03, 2014
Aorus M7 Features Continued
While 16 programmable buttons may be the most useful feature the unique window system paired with 5 different colored lights brings the wow factor. And let's face it, if you are going to pay for a premium mouse it helps if it looks good too!
The front of the M7 features two blue light up headlights providing a nice accent when the lights are low. These can be dimmed or disabled from the software.
Both the mouse wheel and the internal lights are set to match the five programmable profiles by default. This gives you a nice visual indicator of which profile you have active. It's a nice touch to have the Aorus logo provide the internal lighting that illuminates the engine. As you would expect the colors can be reprogrammed to match your favorite setup in the software as well.
Aorus M7 Software
Although the M7 works great right out of the box, to truly get the most out of it you will need the latest drivers. I downloaded version 1.0 for this review but version 1.01 is already available as of 10/31/2014. You can also view/download the user's manual in 9 different languages. A nice full color version comes in the box as well.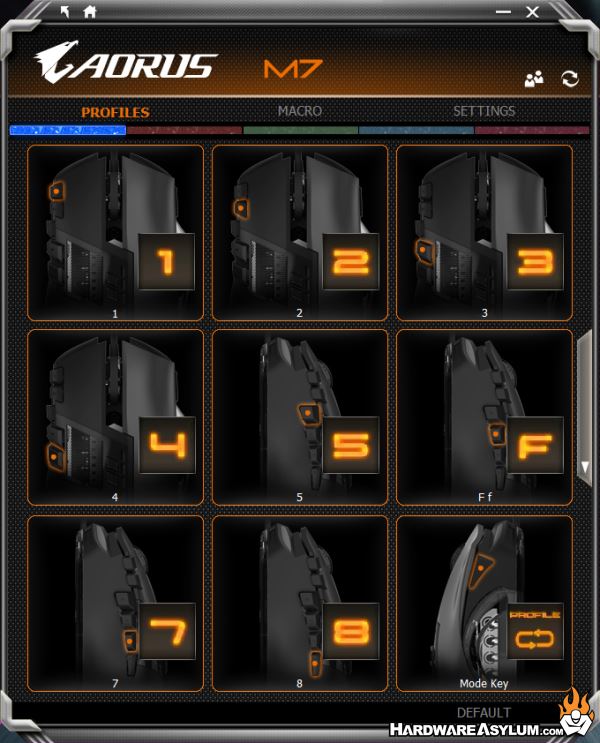 Opening the software reveals an interface divided into three main areas. The Profiles Tab, Macro and Settings. More on each tab can be found in the gallery below.
The Profiles Tab shown here allows you to configure each of the 5 colors by selecting them across the top. Each button can be individually selected and programmed. Once selections are made they are saved to the M7's onboard memory.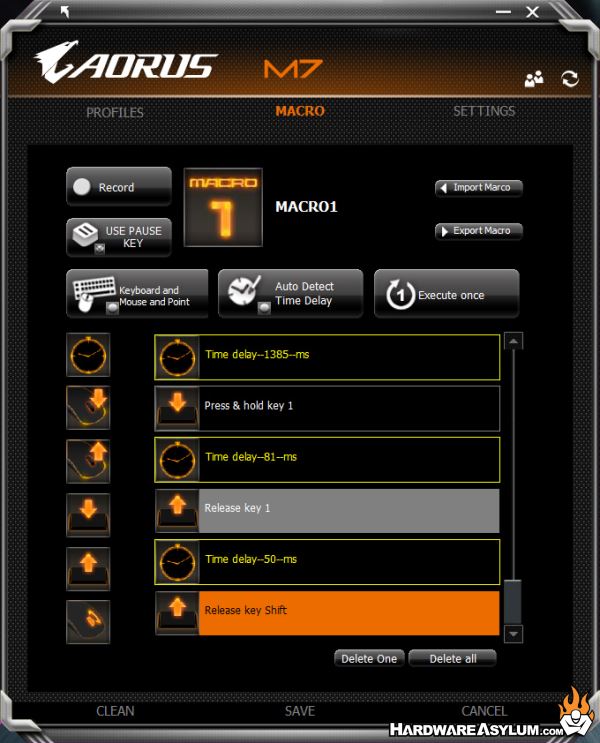 On the Macro tab you can record up to 70 separate macros. Recording can be done real time. Macros can be edited and exported to your PC. Shared macros can be imported to allow sharing with teammates.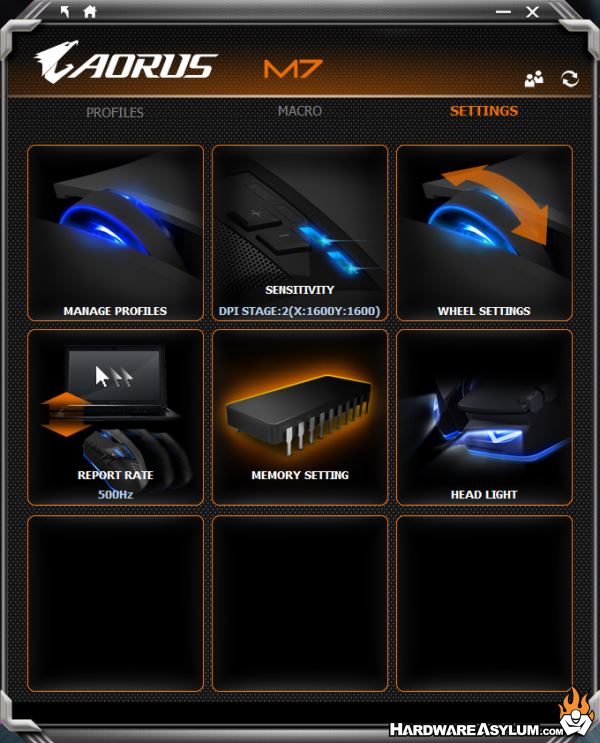 The Settings tab contains six separate areas at launch with room for more. You can Manage Profiles, adjust Sensitivity, change your Wheel Settings, change your Report Rate, manage your onboard Memory Storage and Adjust the Headlight.