Aorus Thunder M7 MMO Gaming Mouse and Thunder P3 Gaming Mouse Pad Review
Aorus Thunder M7 MMO Gaming Mouse and Thunder P3 Gaming Mouse Pad Review
Author:

Darren McCain
Published:
Monday, November 03, 2014
Thunder P3 Gaming Mouse Pad
Aourus was also kind enough to send along their new Thunder P3 Gaming mouse pad for testing with the M7. So before we conclude, let me introduce the Aorus P3 in the Extended Edition. Available in 4 different sizes, the Extended Edition is designed to cover your entire gaming area. No more gaps between devices and no more picking up your mouse at the edges when you r sensitivity requires it.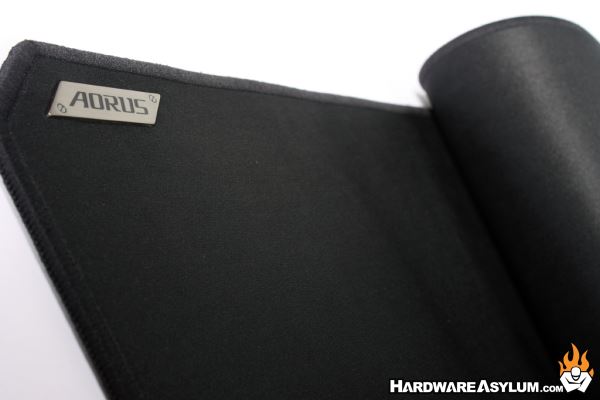 Each P3 has the Aorus logo shown here stylishly affixed to the top right. It's a nice touch and adds to the rich look of the product on your desk.
Specifications
Surface: Superior Slick Gliding Micro-fabric
Color: Black
Approximate Dimension: Thickness of all Thunder P3 is 3mm
S : 265mm (L) x 210mm (W)
M : 350mm (L) x 260mm (W)
L : 440mm (L) x 300mm (W)
Extended : 1000mm (L) x 400mm (W)
Let's face it you probably have a decent mouse pad right now right? Not like this! The P3 rolls out flat the first time, no warping or bubbling up. The cloth surface is silky smooth and shows every speck of dust.
No worries though, the P3 comes in a spill resistant black that is densely woven and backed by a 3mm foam pad. Spills wipe clean easily if not allowed to pool making it easy to keep clean. The edges are stitched to prevent fraying over time. There is just enough thickness to feel comfortable without feeling thick.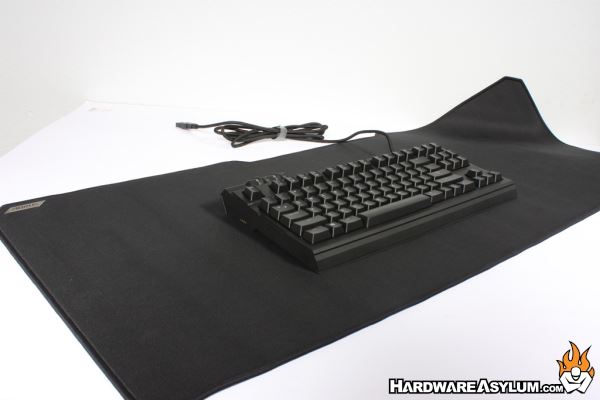 It is also hard to explain the scale. At 400mm by 1000mm (15.75'x 3" 3.37') the P3 Extended Edition is the largest mouse pad I have ever seen. Here it is shown with the Aorus Thunder K7 keyboard on it. In fact the P3 is so big I don't have desk space for it at home, thanks to my slide out keyboard tray. So I took it to work for a week to test it while playing some of my favorite games of Outlook and Excel with a couple of custom SQL mods! It actually covers the area in front of two 24' monitors with room to spare. I have some jealous co-workers this week! Now back to testing…