Azio MGK1 RGB Backlit Mechanical Gaming Keyboard Review
Azio MGK1 RGB Backlit Mechanical Gaming Keyboard Review
Author:

Darren McCain
Published:
Monday, May 09, 2016

Introduction
There is a revolution going on in the keyboard industry. Mechanical gaming grade keyboards are finally hitting the mainstream. These feature rich keyboards are finally reaching a price that rivals good membrane units. Azio is leading the charge with the MGK1 series of backlit mechanical keyboards. Recently we reviewed the Azio MGK1 Backlit Mechanical Gaming Keyboard and found it to be surprisingly good.
How do you follow a keyboard that I called my new go to budget friendly keyboard? Simple add true RGB lighting and offer Kailh Blue switches as an option. Let's see how the Azio MGK1 RGB Backlit Mechanical Keyboard compares!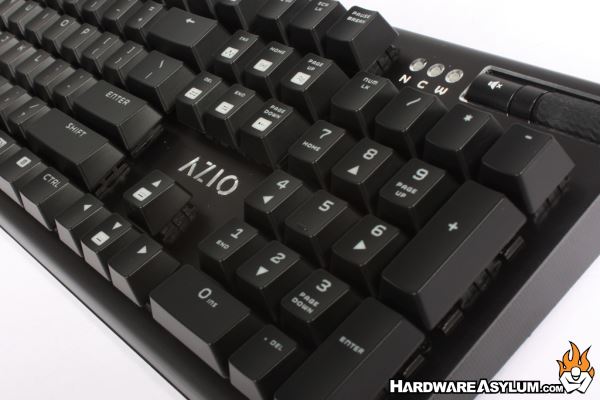 Currently the RGB version of the MGK1 is only available in an all-black color scheme. This may seem like a deterrent but once you fire the bright LEDs up there is plenty of color to offset the black foundation. The Kailh Blue switches are surface mounted on a beautiful gunmetal brushed aluminum surface. The RGB backlit model carries the model number MGK1-RGB-BLU which leads me to believe the option for other key types is there in the future.
Specifications
Model: MGK 1-RGB-BU
Interface: USB
Switch Type: Kailh Blue
Switch Life Span: Up to 50 Million keystrokes
Actuation Point: 1.9 mm +/- 0.4 mm
Reset Point Distance: 0.4 mm
Actuation Force: 50g
Backlight: RGB
N-Key Rollover: Full NKRO (WIN)
Cable: 6 FT. Braided
OS Support: WINDOWS XP, VISTA, 7, 8, 10 / MAC OS X
Dimensions:
Keyboard / 445 MM x 35 MM x 137 MM
Palm Rest / 445 MM x 18 MM x 64 MM
Weight: 1060 G / 2.3 Lbs.
Box Content: MGK 1 RGB Keyboard / Key Puller / Thank You Card
Warranty: 3 Years Limited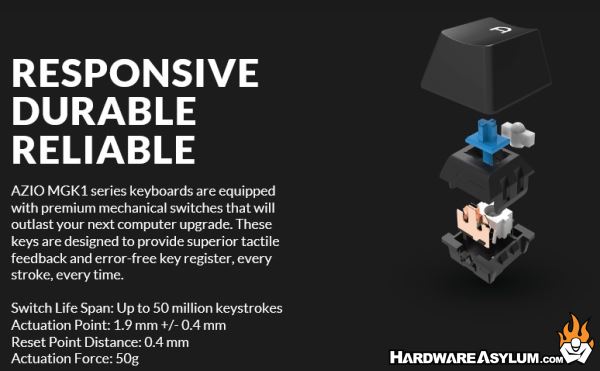 Azio bucks the current trend by using Kailh Switches instead of the Cherry MX switches we have grown to expect. Kailhua Electronics Co, LTD (originally LongHua) was formed in 1990 and manufactures a variety of Kailh switch types widely used in brands like Logitech, Razor, ThermalTake and Lenovo. Although Kailh switches are widely viewed as a low cost Chinese clone of the Cherry MX switches they have a reputation for being slightly heavier in their actuation. According to the Kailh website there are currently several major types of keyboard switches available: Kailh Red switches have a smooth 50g linear actuation. The Kailh Blacks have stiffer linear actuation with a 60g rating. Kailh Browns have a pressure point ergonomic actuation at 60g. And the Blues have a pressure point clicky actuation design at 50g. All four can be pretty closely compared to their color coded Cherry MX counterparts. With reports of Cherry MX shortages creating production delays up to a year I expect to see a lot more competition in the mechanical switch arena.
The name may be new to most but Azio is an industry leader in large font specialty keyboards. Founded in 2005, Azio is an acronym for "A to Z, Input-Output". Azio's Elegantly Fierce vision is to provide cutting edge products that are intuitively easy to use, provide maximum comfort and leave a minimal environmental footprint.