Cooler Master Quickfire TK Gaming Keyboard Review
Cooler Master Quickfire TK Gaming Keyboard Review
Author:

Dennis Garcia
Published:
Tuesday, November 27, 2012
Introduction
It's no secret I travel with my PC more than most and the size of my accessories almost dictates how many trips to the car I make. As you can imagine size is important and Cooler Master's new compact gaming keyboard, the Quick Fire TK, is right up my alley. The Quick Fire TK features a seriously compact design and a selection of the popular Cherry MX mechanical switches.

Did I mention it also lights up?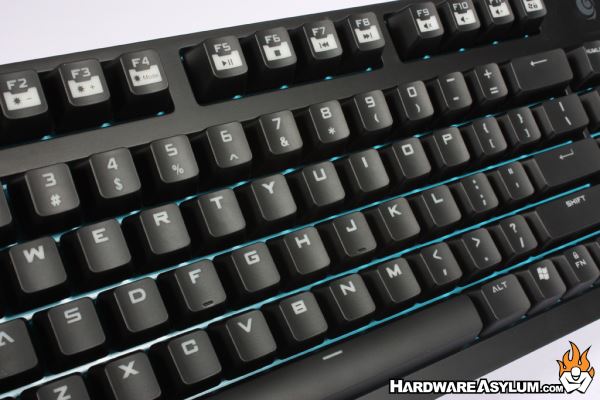 The Quick Fire TK distills your premium gaming keyboard down to the essential components. Superior Mechanical response, steel reinforced and UV coated keys mean this keyboard will remain just as crisp and durable after years of heavy gaming use. There are no additional macro keys or extra media keys. Even the extra rows of keys normally found between the Qwerty keyboard and the NumPad are gone.
Features
Model Number
- SGK-4020-GKCR1(Red switch)
- SGK-4020-GKCM1(Brown switch)
- SGK-4020-GKCL1(Blue switch)
Key Switch
- Cherry MX Blue/ Brown/ Red
Keycaps
- ABS, grip coated, removable
Keycap Puller
- Yes, ring-puller
Backlight
- All keys, Red, 5 Levels, 3 Modes
Key Rollover
- NKRO (windows only)
Polling Rate
- 1000 Hz /1 ms
Interface
- USB 2.0 full speed
USB cable
- 1.8m, braided, gold plated, removable
Dimensions
- 377.5(L)*138(W)*33(H)mm / 14.9(L)*5.4(W)*1.3(H)inch
Weight
- 544 g/1.2 lbs

Choosing your Quick Fire TK really boils down to identifying your particular flavor on the Cherry MX switches. Blue tends to favor typists with a more tactile or "clicky" action. Blue can also make it harder to double tap but provides the most feedback in terms of touch. Reds require less force and tend to favor a softer touch which can also lead to accidental key presses but can be more responsive. Browns tend to be a little bit of both. While they are less tactile, and less "clicky", they do have a feedback to them while still requiring less force than the reds.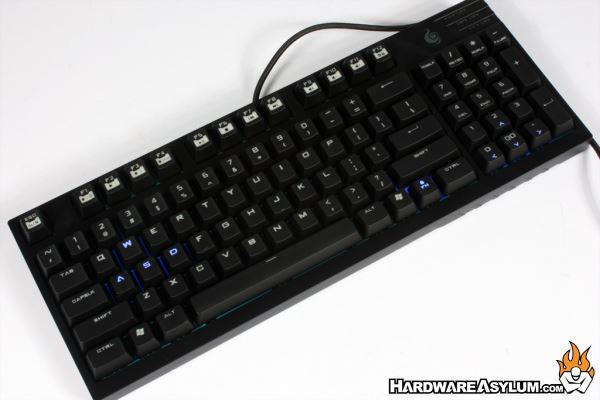 Cooler Master has paired the lighting theme to the switch type making it easy to tell which type you have but making it easy to choose the wrong switch type if you are trying to color match your gaming rig. Like any good tool, choosing the right keyboard will make a huge difference in your enjoyment over time.

I have been running our Blue Quick Fire TK for a couple of weeks including some heavy Borderlands 2 play over the holidays. As expected, the blues are loud and crisp making it a bit distracting at first. Once I settled in I found the responsiveness and feedback easy to get into a rhythm with. Like all good gaming keyboards, I found that speed came with familiarity and I was soon clicking away on my own without looking.

The compact design is not without its drawbacks and in a way typing on the Quick Fire TK felt more like a gaming laptop than desktop keyboard especially when it comes to correcting errors. When doing normal day to day typing I found myself rethinking where the re-assigned keys were located and how to access them, and that happened quite often.
Conclusion
The Coolermaster Quick Fire TK is a fantastic portable mechanical keyboard with the option to choose your style of Cherry MX switch type. I loved the lighting options and the quality is exceptional for the price point. All this said, I would not recommend it as a replacement for your non-gaming rig if you use your system for more typing centric activities.

With the Quick Fire TK, Cooler Master has created the ultimate, bare bones, toss in your bag and go keyboard for serious gamers. The price point is most attractive as it brings a mechanical keyboard in range of most budget minded gamers looking for a serious replacement. You won't get programmable macro keys or a dedicated arrow keypad but those aren't for everyone so why pay extra for something you may never use.

Available Images