Cooler Master SK630 Tenkeyless Mechanical Keyboard Review
Cooler Master SK630 Tenkeyless Mechanical Keyboard Review
Author:

Darren McCain
Published:
Tuesday, January 29, 2019

Introduction
Every year we see a lot of great keyboards the Hardware Asylum Labs. That's why we seek out new and innovative design choices that can make a keyboard really stand out. The Cooler Master Sk630 Tenkeyless Mechanical Keyboard is just such a board. It combines everything we like about a good mechanical keyboard with a compact tenkeyless design and the latest in Cherry MX switch technology.
When I saw the new Cooler Master line at CES, I just knew I needed more time on the SK630 design and really wanted to see if my first impression would be a lasting one.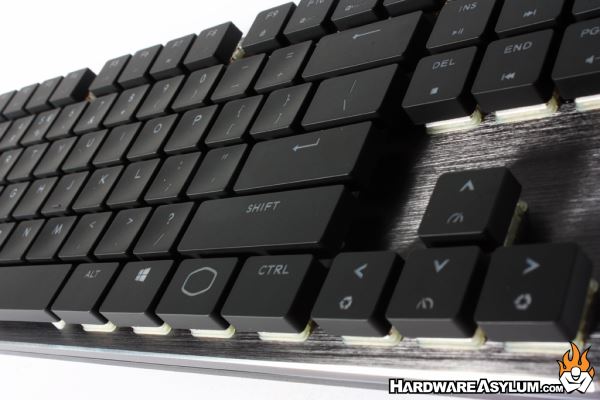 The SK630 is marketed as a slim, low profile design and it shows. A gorgeous brushed aluminum surface over a short black plastic case provides only the required design elements. This pared with the new Cherry MX Low profile Switches to keep the overall design down to ~14 x 5 x 1.17 inches (353.5 x 125.5 x 29.8 mm (L*W*H)).
Of course the Sk630 is just part of the new SK line that we saw in Vegas and wasn't even the smallest version and yet all share the same low profile design philosophy There was even an all-white prototype that I hope makes it to production!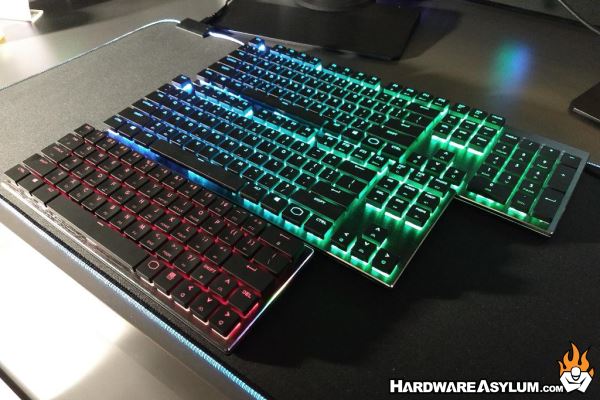 Specifications
Switch Type: Cherry MX RGB Low Profile Switch
Material: Aluminum / Plastic
Color: Gunmetal Black
LED Color: RGB
Polling Rate: 1000 Hz
Response Rate: 1ms / 1000Hz
MCU 32bit ARM Cortex M3
On board Memory: 512KB
On-the-fly system: Yes, for Multi-media, Macro
Recording and Lighting control
Multi-media Keys Through Function Key (FN)
Cable: USB Type-C Detachable & Braided
Software Support: Yes, through Portal
Connector Cable: USB Type-C (Keyboard Side)USB 2.0 Type A (Computer Side)
Cable Length: 1.8m, Braided & Removable
Dimensions: 353.5 * 125.5 * 29.8 mm (L*W*H)
Product Weight: (without cable) 552g
Warranty 2 years
Choosing your mechanical keyboard often boils down to identifying what type of Cherry MX switch you like the most. The SK630 uses the latest Cherry Red MX Low Profile switch. Reds require less force and tend to favor a softer touch which can also lead to accidental key presses but can be more responsive.
"The CHERRY MX Low Profile RGB Red has a very shallow profile and is specially designed for flat desktop applications as well as notebooks. The switch combines linear switching characteristics with a low actuation force. This makes it possible to trigger the switch quickly and smoothly." ~Cherry GmbH
The Cooler Master SK630 also comes with a convenient key pulling tool and a fully detachable USB C type power cable. I am a huge fan of fully detachable cables making the most frequently damaged part of any mechanical keyboard fully replaceable!
Cooler Master has come a long way from their 1992 beginnings as a heat sink manufacturer. Today Cooler Master is an industry leader offering a wide range of Custom PC coolers, cases, peripherals and more. Odds are pretty good any custom built or boutique PC will have Cooler Master parts under the hood.