Cooler Master SK630 Tenkeyless Mechanical Keyboard Review
Cooler Master SK630 Tenkeyless Mechanical Keyboard Review
Author:

Darren McCain
Published:
Tuesday, January 29, 2019

Cooler Master SK630 Layout and Features
I have to admit the combination of a smaller form factor and the flat square keys does remind me of a well-built laptop keyboard but that's not a bad thing.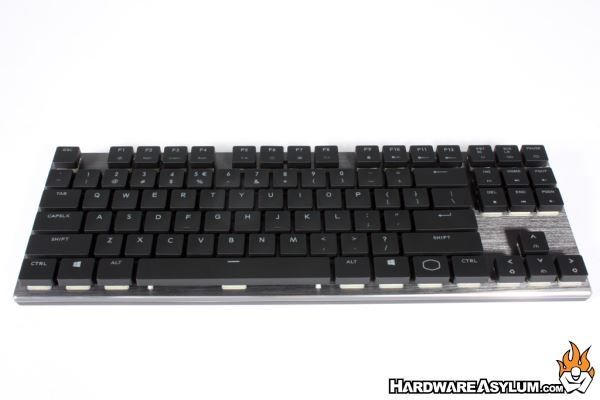 Even with the lights off the SK630 looks classy and modern. Aside from the Cooler Master logo on the function key there is no additional branding or lighting of any kind. Not even the usual CapsLock or mode lights. It's a bold choice reflecting the same design choices we saw in the MH752 Gaming Headset.
A profile view shows the Surface mount design that provides the Cherry Switches with their RGB lighting. The key caps are definitely square and have very little surface contouring aside from the usual F and J tactile indicators.
From the back you can see the only port is for the USB Type C connector. I would have loved to see an additional port for USB charging or a mouse but I can see why that might not fit the minimalist theme.
This same minimalist theme means no wrist rest or even an adjustable keyboard angle. This is one of the hardest parts of the CM SK630 to get used to as the overall shape fells pretty good but combine this with the flat keycaps and you can tell there is something different.
Cooler Master also included a soft velvety carry case to protect the keyboard during shipment and also keep the keys clean when in storage. As you can expect this keyboard is begging to travel, to where, that is up to you.