HyperX Alloy FPS Mechanical Gaming Keyboard Review
HyperX Alloy FPS Mechanical Gaming Keyboard Review
Author:

Darren McCain
Published:
Wednesday, March 15, 2017

Alloy FPS Layout and Features
For their first keyboard effort the HyperX team has gone with a no frills layout designed to save space while offering full functionality. The Alloy FPS measures in at a compact 441.65 x 129.38 x35.59mm (about 17.3 x 5.09 x 1.4 inches) making it smaller than your typical gaming keyboard but without giving up the 10 key. This is particularly nice for any desk with a keyboard tray.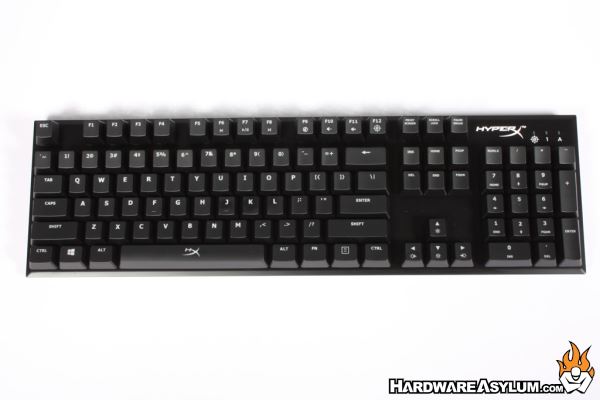 Most of the size reduction comes from reducing the design down to just the core elements of your typical mechanical 101 key keyboard. No extra macro keys or multimedia dials to distract or take up space. Even the branding is tasteful and minimal. Keeping the edge of the frame close to the keys helps shave precious space as well.
The popular Cherry MX keys are surface mounted following the trend we have been seeing in gaming keyboards with LED lighting lately. This not only helps the effectiveness of the accent lighting, it also makes it easy to clean and maintain the keyboard over time. This top plate is built from a sturdy metal alloy that provides the basis for the name.
Despite the no frills theme, the Alloy FPS does include one interesting addition. A charging port is present on the top edge of the frame to allow for charging your phone or other USB compatible devices. This feature does require a second USB connection on your PC to power. I found this choice an interesting one. The port is not designed to support another USB peripheral like a mouse or headset just charging.
You may have already noticed the Alloy FPS doesn't ship with a wrist rest. The thin frame makes this less of an issue than you might expect but some may need a pad to feel comfortable on the raised Cherry MX keys. Two small feet can be extended to give your Alloy FPS a tilt.
HyperX provides a set of red keycaps to replace your typical FPS keys. This adds a cool red accent to the keys that looks pretty cool. The WASD keys even have a unique texture that immediately identifies them to the touch. They even include a tool to make swapping simple. You know these keys are staying on for me!