Mad Catz B.A.T. 6+ Performance Ambidextrous Gaming Mouse Review
Mad Catz B.A.T. 6+ Performance Ambidextrous Gaming Mouse Review
Author:

Darren McCain
Published:
Monday, March 6, 2023

Mad Catz Software and Conclusion
Mad Catz uses their own software suite and it is one of the nicest looking I have seen. We will be looking at the most current build as of this review. Version BAT_6+_x64.1.0.70. An x32 version is also available.
The software defaults to the programming page where you are greeted with an easy icon driven way to customize each of the buttons using a simple drag and drop method. Customization settings are arranged as: Shortcuts, Keys, Favorites and Custom. Custom is where you can create a macro for each button.
Moving to settings drops you to the Mouse Response (DPI) setting. The drop down gives you three other options: DPI Switch, Poll Rate and Angle Snap.
Selecting Chameleon takes you to the lighting controls. You can set the color and speed from the 16.8 million RGB color pallet. The effects are limited to Off, On, Breathing and Rainbow.
As expected, the Support tab contains links to the software and contacts via the web.
RGB Lighting
The lighting effect is pretty subtle. Light is projected out around the side skirts creating a subtle ground effects look. Sadly, the lighting does not sync with any of the other major color control suites.
Testing
I tested the Mad Catz BAT 6+ for a couple weeks to get used to the smaller size and weight. My testing overlapped nicely with a Battlefield 2042 season release so the majority of my time was spent playing the new map. I ended up most comfortable at 1600 DPI with no additional tweaking needed. My palm grip did lead to some wrist drag, making me pine for a larger length. Simply switching out the wings and the wrist rest tailored the feel to more match my palm grip. I would say this mouse is a good fit for a medium to small grip.
The side grip was comfortable and intuitive. The ability to program the buttons from left to right is a fantastic call for my left-handed friends and the shape is the best ambidextrous design I have used.
I do have to admit I found myself wishing for even more variety in the shapes. Perhaps even a 3D printing template.
Conclusion
Choosing a true ambidextrous mouse design used to mean you had to compromise. With the Mad Catz BAT 6+ I felt immediately comfortable with my typical right-handed palm grip. Mad Catz has nicely avoided the awkward shapes some ambidextrous mice seem to have and provided an elevated gaming experience.
Overall, I found the Mad Catz BAT 6+ to be a competent, well-designed gaming mouse that would be successful for both left and right-handed gamers at any skill level. This is not a mouse bred for compromise just to reach a left-handed audience. This is a customizable mouse that would be at home in any E-Sports arena.
Good Things
True ambidextrous design
Modular setup
Very responsive sensor
Comfortable fit
Bad Things
Smaller shape
High price tag
Limited lighting options
Hardware Asylum Rating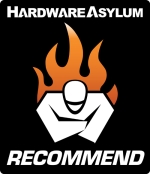 Mad Catz B.A.T. 6+ Performance Ambidextrous Gaming Mouse Review
Recommend
https://www.hardwareasylum.com