Mad Catz B.A.T. 6+ Performance Ambidextrous Gaming Mouse Review
Mad Catz B.A.T. 6+ Performance Ambidextrous Gaming Mouse Review
Author:

Darren McCain
Published:
Monday, March 6, 2023

Mad Catz B.A.T. 6+ Layout and Features
The BAT 6+ is a 10-button programmable mouse if we include both the DPI button and the oversize tilt wheel.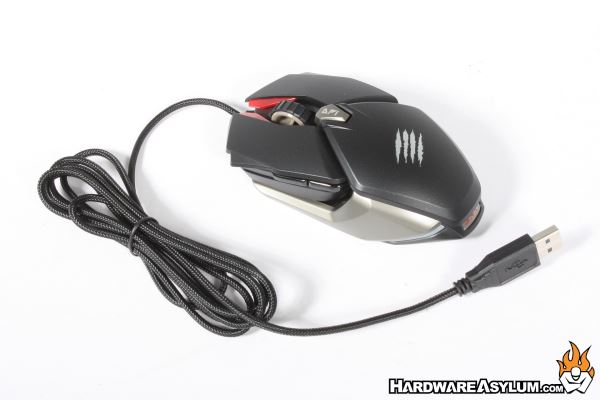 The black and silver color scheme is subtly accented with a touch of red around the scroll wheel. The scroll wheel has an aggressive cut and mounting that remind me of a good set of alloy wheels.
The buttons utilize Mad Catz own DAKOTA technology. The DAKOTA switches accelerate the response time to within only 2 milliseconds and have a life expectancy in excess of 60 million clicks.
Sensor support is provided by a PixArt. The PMW-3389 is a 16,00 DPI sensor with 400 IPS and an acceleration of 50g. This sensor has been called "flawless" and named one of the best sensors for E-Sports today.
A set of three Teflon pads support the core of the BAT 6+ but additional support can be found on the wider skirt pieces. More on those in a minute! Connectivity is provided by a 1.8M braided fiber cable.
Mad Catz B.A.T. 6+ Customization
Probably the biggest selling point for any Mad Catz mouse is the wide array of customization. While moving to an ambidextrous design does make some of the customization found in the RAT series impossible, the BAT does bring several options to the table.
The BAT 6+ uses a clever set of magnetic anchor points to allow you to disassemble the top and side panels easily. This does mean you can play the BAT 6+ with its lighted undercarriage revealed as a lean smaller mouse if you choose.
But why would you when you have options?
Two sets of side skirts give you the option to switch one or both sides to a wider wing style that supports your fingers. I am right-handed and definitely prefer the left side as a wing for my palm style grip.
You can even switch out the wrist rest from the default shape to a taller shape. Right out of the box the BAT 6+ is a medium sized mouse to me. I definitely like the taller stance but wish they had a replacement that was a bit longer as well.
Here is a closer look at the differences between the parts. Its much easier to see them side by side!
I also like the nice BAT logo across the back. Subtle but it doesn't light up. I guess it's a vanity plate!