G.Skill Ripjaws KM780 MX Keyboard Review
G.Skill Ripjaws KM780 MX Keyboard Review
Author:

Darren McCain
Published:
Thursday, February 11, 2016

Introduction
This year G.Skill is really making a splash with their Ripjaws branded gaming peripherals and today we will be looking at their first entry into the highly competitive mechanical keyboard arena; the KM780. Our KM780 pairs the popular Cherry MX Brown switches with a LED accented red on black color scheme.
Packed with features and a futuristic look, the KM780 shows that G.Skill has done the research on what gamers and enthusiasts are looking for in a keyboard. Cherry MX switches, programmable lighting, anodized aluminum frame, and more. Check.
Let's find out if the performance backs up this promising first effort.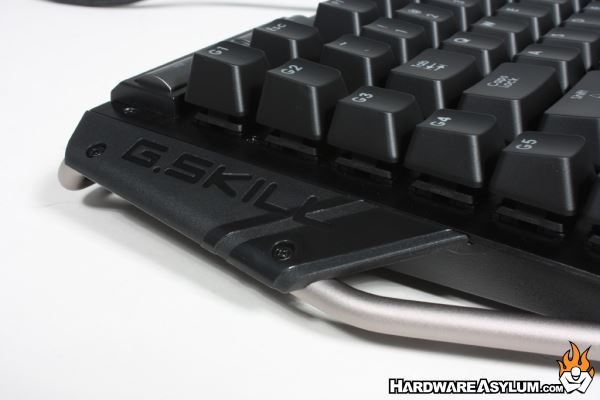 The KM780 series is offered in a variety of different switch and lighting combinations with at least one that is sure to please most gamers. As of this review, G.Skill offers the KM780 with your choice of brown, red and blue Cherry MX switches. By default the lighting is what G.Skill calls Crimson Red. Moving from a single crimson red LED to a full RGB layout adds about $30 MSRP. Other than those two options the boards are functionally identical.
For those willing to give up the extra gaming keycaps G.Skill offers the KM780 in a KM780R Mechanical Gaming Keyboard variation. This keyboard is otherwise identical but shaves a few bucks off the price while offering the same selection of lights and switches.
Let's take a look at the specs.
Specifications
Series: KM780 Mechanical Gaming Keyboard
Keyboard Type: Mechanical
Key Switch: Cherry MX Brown Switch
Backlighting: Yes
Anti-Ghosting: Yes
Full N-Key Rollover: Yes
Gaming Mode Option: Yes
On-board profile: 3
Additional Macro Keys: 6
Dedicated Media Control Panel: Yes
Audio-in and Microphone-out: Yes
USB Pass-through: Yes
Mouse Cable Holder: Yes
Detachable palm rest: Yes
Dimensions: 518 x 172 x 48 mm
Dimensions w/ palm rest: 518 x 228 x 48 mm
Weight: 1.36 kg
Weight w/ palm rest: 1.54 kg
Warranty: 2-Year Limited Warranty
Choosing your mechanical keyboard often boils down to identifying what type of Cherry MX switch you like the most. Blue tends to favor typists with a more tactile or "clicky" action. Blue can also make it harder to double tap but provides the most feedback in terms of touch. Reds require less force and tend to favor a softer touch which can also lead to accidental key presses but can be more responsive. Black switches are similar to reds but require more force to actuate the key. Black switches require 60 cN (centi-Newtons) of force to actuate, while the Red switches only requires 45cN. Browns tend to be a little bit of both. While they are less tactile, and less "clicky", they do have a feedback to them while still requiring less force than the reds. Green is a very rare switch type often referred to as a stiffer blue making its inclusion all the more notable. Green is both a tactile and a clicky switch often reserved for the space bar. You can both feel the tactile bump and hear the "click" that occurs when the activation point is hit.
Established in 1989 by enthusiasts, G.Skill is a leading memory module Manufacturer based in Taipei, Taiwan. G.Skill may be known for their high performance Ripjaws branded memory and affordable pricing but these days everyone is diversifying. Applying the well-known Ripjaws brand to a gaming line of mice, headphones and keyboards is a natural extension.