G.Skill Ripjaws KM780 MX Keyboard Review
G.Skill Ripjaws KM780 MX Keyboard Review
Author:

Darren McCain
Published:
Thursday, February 11, 2016

KM780 MX Keyboard Layout and Features Continued
One of the more interesting features is the inclusion of a box of ten contrasting red keys to replace your WASD keys and the surrounding keys used in most of the popular FPS games. The box clicks onto the back rail for safe keeping and includes a key removal tool. The W, A and D keys are cut at an angle creating a cupped shape around the S key. These keys all have a ridged surface making them easy to identify by touch.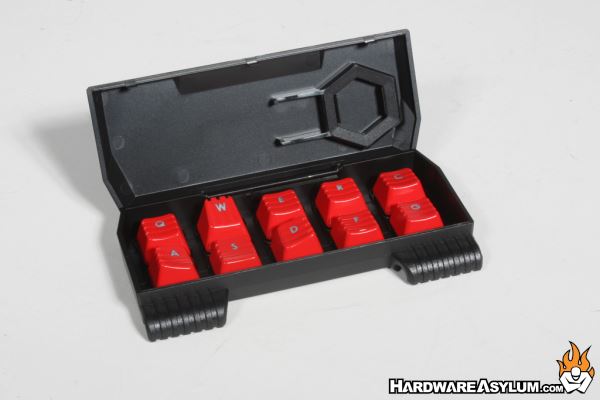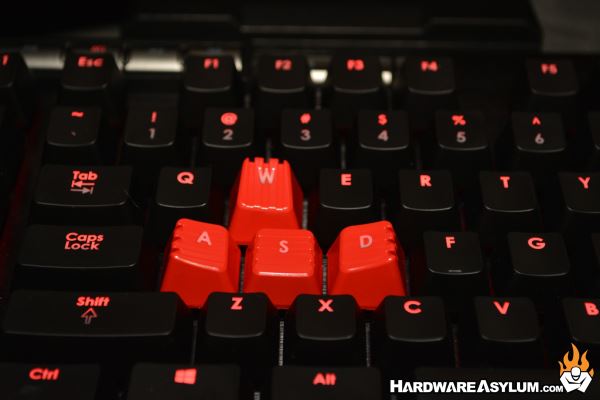 I suppose the shape and texture were designed to increase the response time and prevent your fingers from slipping in the heat of battle. In practice it definitely feels different. I confess I am still trying to decide if I like the feel but I can't fault them for making it both easy to change them out on the fly and to pack them along for those FPS specific sessions. And let's face it; I am a sucker for those cool red FPS keys.
On the left side there six macro keys that can be programmed on the fly and stored in the KM780's 512kb onboard memory across three profiles. The first three keys above the escape key allow for quick profile switching with an easy backlit selection. The next three keys are: A Windows Lock key, the LED Backlight Toggle key and a programmable Timer key. I haven't seen a timer on a keyboard before and wonder how useful it will turn out?!?
The right side houses a more traditional set of multimedia keys, also backlit. A scroll wheel like volume control is paired with a Led volume control display on the corner. It looks pretty good though I tend to control the volume directly from my gaming headphones.