Roccat Kiro Modular Ambidextrous Gaming Mouse Review
Roccat Kiro Modular Ambidextrous Gaming Mouse Review
Author:

Darren McCain
Published:
Monday, March 28, 2016

Introduction
These days there are a lot of good gaming mice out there but if you are left handed you may feel like the party started without you! The good news is ROCCAT has your back with their latest ambidextrous gaming mouse; the Kiro Modular Ambidextrous Gaming mouse. The Kiro is the spiritual big brother to the award winning Lua design. It's not only bigger; it has a few new tricks up its sleeve.
Designed for both left and right handed gamers the Kiro is packed with features and comes in at a surprisingly affordable price point. Let's see if the Kiro can win this ROCCAT fan over to the new design.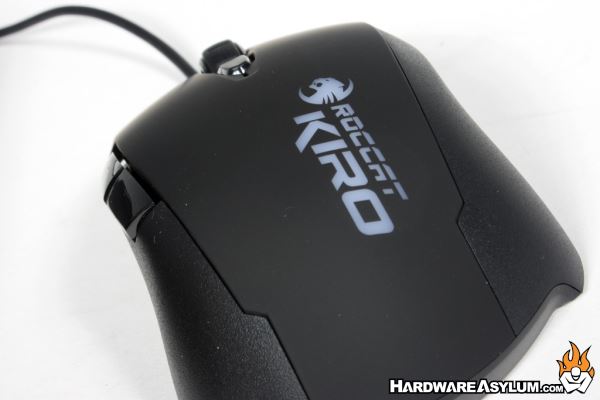 The Kiro may not be as flashy as some of the upper end mice on the market but its black on black surface is accented by a customizable accent light behind the logo. Currently the Kiro is only available in black but it does appear to be more two tone thanks to the soft-touch finish up top borrowed from their high end mice.
Calling the Kiro a big brother might be a bit unfair to its slim 6.7 cm x 3.0cm x 12 cm footprint making the Kiro decidedly in the middle of the ROCCAT lineup in terms of size.
Let's see what's under the hood!
Specifications
4000DPI Pro-Optic R2 sensor
100016.8M Multicolor Illumination
Talk FX + ALIENFX Support
32-Bit ARM MCU + Onboard Memory
Super-dexterous Support
Extendable Design
Founded in 2007, ROCCAT may be the freshest name in gaming. Not only do they offer a full line of professional level gaming peripherals, they also offer support for the eSports scene with a selection of avatars, custom Counter Strike maps and GUIs. Even their site offers some of the most innovative marketing I have ever seen. Our European friends have been enjoying ROCCAT products for a few years now and only recently have ROCCAT products become more widely available around the world.