Roccat Kone XTD Gaming Mouse Review
Roccat Kone XTD Gaming Mouse Review
Author:

Darren McCain
Published:
Sunday, January 05, 2014

Introduction
Last year I crowned the ROCCAT Kone (+) Mouse my favorite wired mouse but the engineers over at ROCCAT weren't satisfied. So they sent the award winning Kone design back to the labs. The result is the new Kone XTD Max Customization Gaming Mouse. It may still look the same but looks can be deceiving.
Positioned as their flagship Mouse the Kone XTD promises to be one of the most powerful and customizable mice ever. I used the Kone XTD exclusively for over two weeks of work and gaming to see if they could make my favorite mouse better. Let's take a closer look.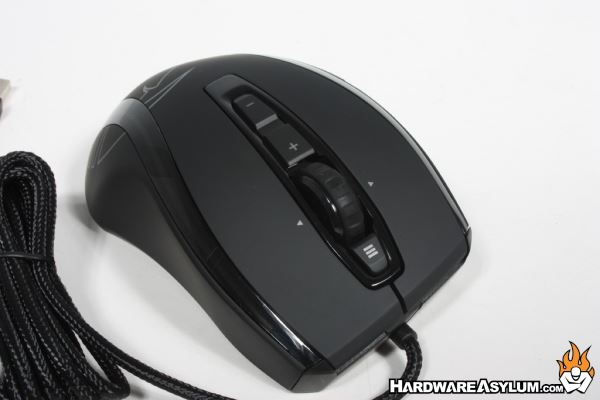 ROCCAT set out to leave the exterior design of the Kone series intact. The right handed shape measures in at 13.5cm x 7.8cm and is currently only available in a corded USB version. Controls are clearly marked and all within a comfortable reach for a typical palm grip. Let's take a look at what the XTD offers.
Specifications
FULLY-ADJUSTBALE 8200DPI PRO-AIM (R3) SENSOR with 41 true DPI setting ranging from 200 to 8200
ROCCAT CLICK MASTER switch tech powered by Omron© for precision button activation
EASY-SHIFT[+] BUTTON DUPLICATOR with Easy-Aim + Easy-Wheel functions for max command power
32-BIT TURBO CORE V2 PROCESSOR for lightning-fast computing speed
TRACKING & DISTANCE CONTROL UNIT for less pick-up flight & more precise gaming
576KB ON-BOARD MEMORY for storing a wealth of macros and settings
4-LED LIGHT SYSTEM for customizable colors + effects
8 MOUSE BUTTONS + SOLID 4D WHEEL for a full complement of command options
4 EASY-TO-CLIP-IN WEIGHTS (4 X 5G) for customized weight adjustment
ROCCAT DRIVER + MACRO MANAGER for advanced customization + presets for games & apps
ROCCAT ACHIEVEMENTS DISPLAY for monitoring gaming performance
Pro-Aim Laser Sensor R3 with up to 8200dpi
1000Hz polling rate
1ms response time
12000fps, 10.8megapixel
30G acceleration
3.8m/s (150ips)
16-bit data channel
1-5mm Lift off distance
Tracking & Distance Control Unit
72MHz Turbo Core V2 32-bit Arm based MCU
576kB onboard memory
Zero angle snapping/prediction
1.8m braided USB cable
Founded in 2007, ROCCAT may be the freshest name in gaming. Not only do they offer a full line of professional level gaming peripherals, they also offer support for the eSports scene with a selection of avatars, custom Counter Strike maps and GUIs. Even their site offers some of the most innovative marketing I have ever seen. Our European friends have been enjoying ROCCAT products for a few years now and only recently have ROCCAT products become more widely available around the world.