Steelseries Rival 700 Elite Performance Gaming Mouse Review
Steelseries Rival 700 Elite Performance Gaming Mouse Review
Author:

Darren McCain
Published:
Wednesday, August 03, 2016

SteelSeries Rival 700 Elite Software
One of the most useful reasons to have an OLED screen is to customize your mouse without the need for software at all. Simply walk through settings directly on the mouse. For most of us downloading the driver is still the way to go. For this review we used the latest driver Version 3.8.3. On first boot a firmware revision was applied to the mouse bringing it up to Version 0.96.0.0.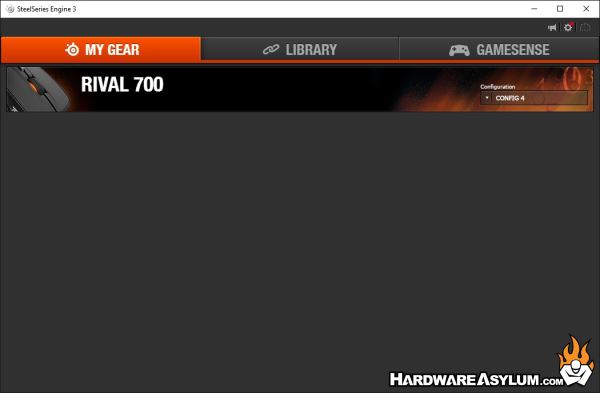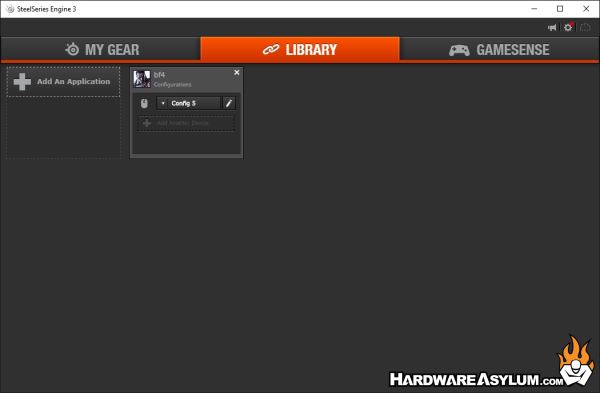 Almost all of the modern SteelSeries products are supported by the SteelSeries Engine 3 software suite. Here you can see a clean install. The Rival 700 does look a little lonely without it's other SteelSeries buddies on the list! The current configuration profile is shown as is a small menu to hide the device or display its firmware version.
The Library Tab provides a way to link your software library to your SteelSeries devices. Here I grabbed Battlefield 4 and associated it with Configuration 5. All of your compatible device configurations can be set this sway making a suite of matching devices quite attractive.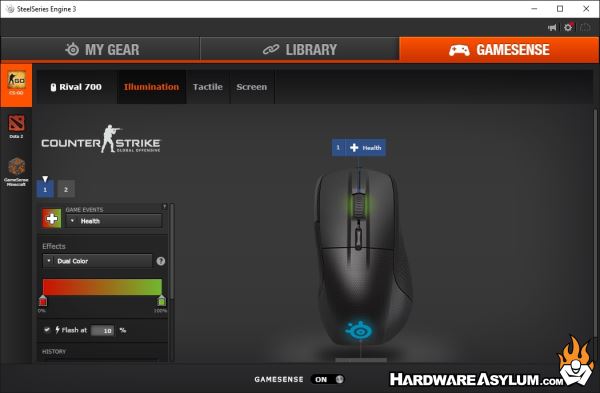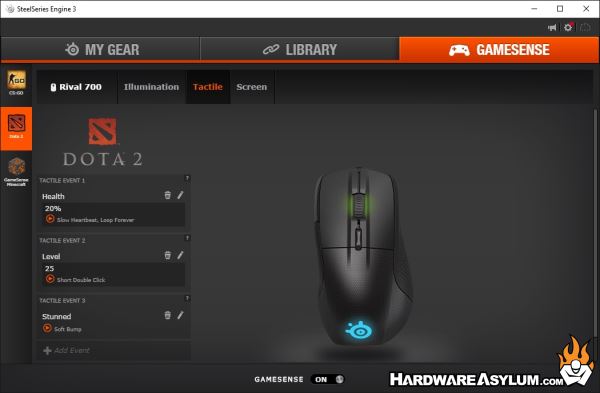 Under GameSense we find all those feedback options we discussed earlier. This is also where you get the onboard LED to work some serious magic by displaying game specific stats and feedback. There is some bad news however. At this time only three games are supported: CS:GO, DOTA2 and Minecraft. And Mine craft requires an additional Mod installation to function. I suppose it's a start but it is frustrating to have such a small library of supported titles and no developer's tools to build your own.
Configuration is divided across three tabs: Illumination and Tactile shown here.
Illumination features a pretty easy to use color control that is echoed in the device configuration. I should point out that the RGB color is divided into two zones; one for the mouse wheel and one for the logo. The mouse light is pretty small due to the low profile design of the wheel leaving the logo as the primary source of light. The Rival 700 did produce the best RGB orange out of any RGB device I have tested to date and everyone had high praise for color reproduction. One downer is the palm light is completely covered by my grip when playing. Ground lighting please next revision!
Tactile feedback even in this limited support model is an attractive addon I have avoided in gimmicky devices over the years. It is nice to see it done in a way that makes sense without intruding on the game. Many of us play console games as well and the only thing that hasn't really passed on to the PC is a good force feedback implementation. Now roll out the supported titles!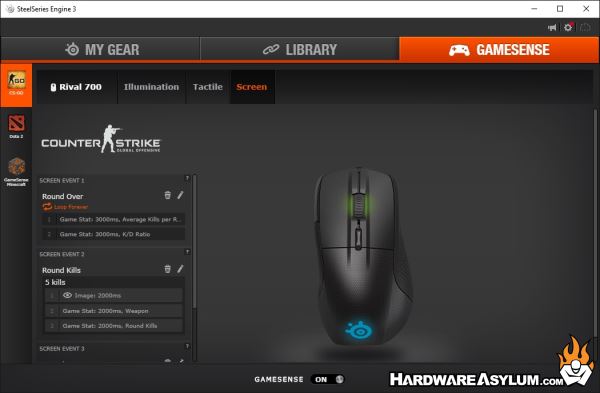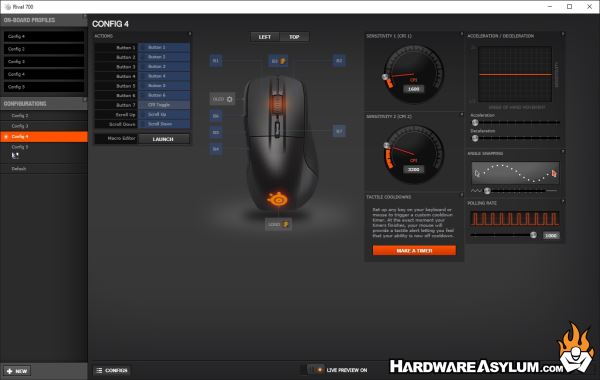 The third tab, or Screen, is shown here for programing the OLED readout in those supported games. I don't have Minecraft installed but the above screens show the default GameSense setup for CS:GO and DOTA2. Are these SteelSeries sponsored titles or simply based on licensing decisions. Who knows?!?
The Config Screen is full of high end customization options that can be assigned to up to 5 profiles. In addition to the custom key assignment options you can define each of two sensitivity options for each profile. Enable and customize mouse acceleration/deceleration settings, angle snapping and polling rates. You can also setup tactile cool down notifications here. As expected the SteelSeries Engine 3 software also supports Macros. I found the Macro tool a pretty easy to use graphical recorder with no noticeable advanced editing tools.