Thermaltake Level 10M Advanced Gaming Mouse Review
Thermaltake Level 10M Advanced Gaming Mouse Review
Author:

Darren McCain
Published:
Tuesday, August 02, 2016

Level 10M Adv Features and Software
The two part setup also allows the top surface height to be adjusted up to 5mm using the included tool or any hex set. This can dramatically affect the feel of the mouse in your hand. I found a couple of twists to the top made the Level 10 M Advanced fit like an old pair of shoes!
Thermaltake does offer a wireless version of the Level 10M called the Hybrid but for those purists the Level 10M Advanced connects through a nicely braided 1.8M cable that terminates in an easy to use plug. The connector is plated in gold and has a nice travel cover for LAN party enthusiasts. No mistaking which plug is your Level 10M Advanced!
Thermaltake Level 10M Software
With the new Level 10M Advanced design comes an updated software suite. This version of the Thermaltake Command center is similar if simplified from before. Software is not required to use the Mouse but does open up all the customization. I downloaded the latest version for this review: V1.02.30 dated 7/18/2016. A firmware update was also available and automatically installed.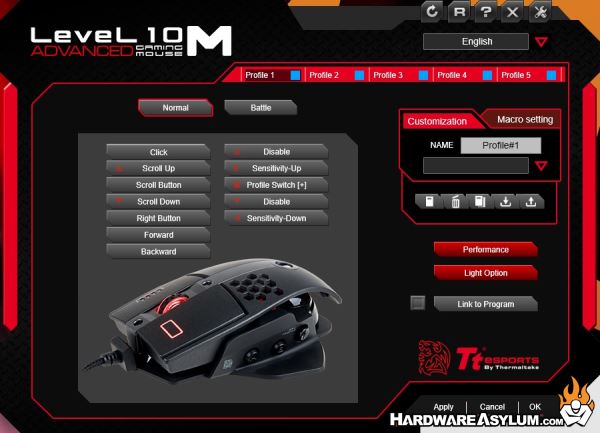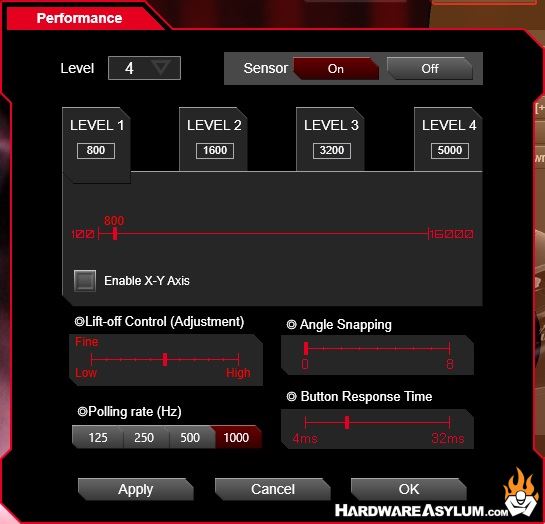 The main page is devoted to customization of the four available profiles. Each of the 10 available keys can be individually programmed and the entire profile can be associated with a specific program. Of course you can customize and save profiles to save with your friends too.
Selecting the Performance button opens a popup submenu where you can change the settings for that Avago sensor. Each level of sensitivity can be adjusted in 100 DPI increments along with lift-off control, angle snapping, polling rates and button response times.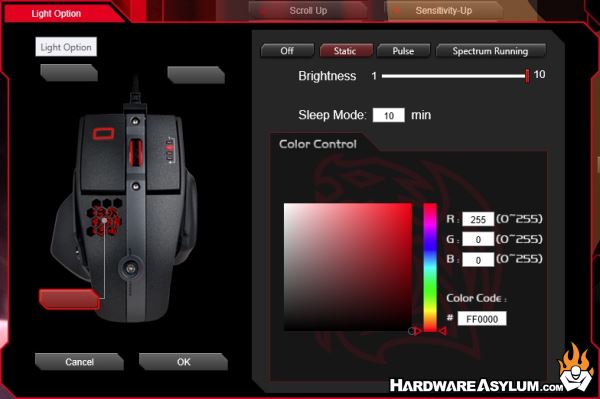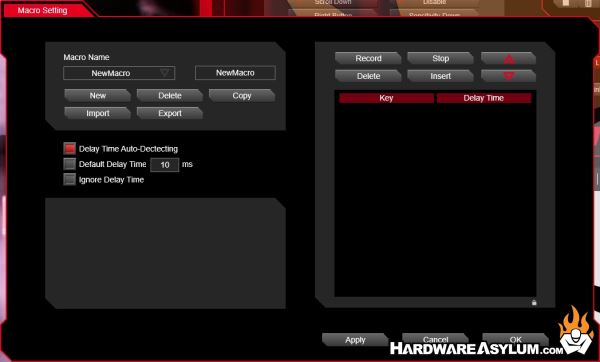 Selecting the Light Option button opens a popup submenu giving access to the 16.8 million color RGB lighting. Lighting is divided across three different zones for individual control; Mouse wheel, primary key and the internal TT dragon logo. Color can be selected down to a RGB code or by selecting from the chart. Personally I like a pulsing dragon as the heart of the Level 10M Advanced Gaming Mouse.
No high end mouse is complete without a macro setup and the Level 10M Advanced is no exception. Controls are pretty intuitive and allow for importing and exporting. I did not see a manual edit function but everything else is present and some simple graphics help with the programs.