Thermaltake Level 10M Advanced Gaming Mouse Review
Thermaltake Level 10M Advanced Gaming Mouse Review
Author:

Darren McCain
Published:
Tuesday, August 02, 2016

Testing and Conclusion
Testing
I started my testing of the Level 10M Advanced as a work mouse and found it comfortable for several days of the 8-5 grind even without the software installed. The oversized feet worked great on both my glass pad and the laminate surface of my desk. I was almost reluctant to move it to my gaming pc as the new base plate design is such an improvement over my daily Microsoft mouse.
No surprise to regular users I was soon fragging away in Battlefield 4. After some simple customizations (I am talking to you counter knife!) I was rolling with the best of the server. I quickly found I bounced between the 3200 DPI for working and the 5000 DPI for gaming. I did try bumping things up as I do play at 6400 on my ROCCAT but found the difference less pronounced. Sniping still works better at a lower DPI anyway!
Conclusion
The original Thermaltake Level 10M is one of the best mice I have ever used so expectations were high for the Level 10M Advanced Gaming Mouse. Quality of construction definitely lives up to popular German Engineering ideals with no question what mouse you are using. The upgraded sensor and switches show there is room for upgrades even if they are incremental.
The shape is longer than I remembered and some simple adjustment helped with my palm grip. Sadly the adjustability is limited to one axis for this model. After hours of use I can safely say the Thermaltake Level 10M Advanced Gaming Mouse is as comfortable and capable a mouse as any I have ever used and it looks great too!
Good Things
RGB lighting looks fantastic
16000 DPI sensor
Adjustable top surface
Super comfortable for palm grip
Bad Things
No adjustable weight system
Gone is the second axis adjustment
Currently only offered in black
Hardware Asylum Rating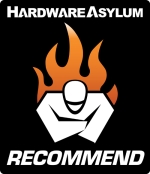 Thermaltake Level 10M Advanced Gaming Mouse Review
Recommend
https://www.hardwareasylum.com