Thermaltake Level 10M Advanced Gaming Mouse Review
Thermaltake Level 10M Advanced Gaming Mouse Review
Author:

Darren McCain
Published:
Tuesday, August 02, 2016

Thermaltake Level 10M Advanced Layout and Features
At first glance the Level 10M Advanced design looks like the same honeycombed aluminum design we have seen for years but a closer examination reveals the engineers in Thermaltake's Tt eSPORTS division have been paying attention. The changes may be subtle but they improve on the design nicely.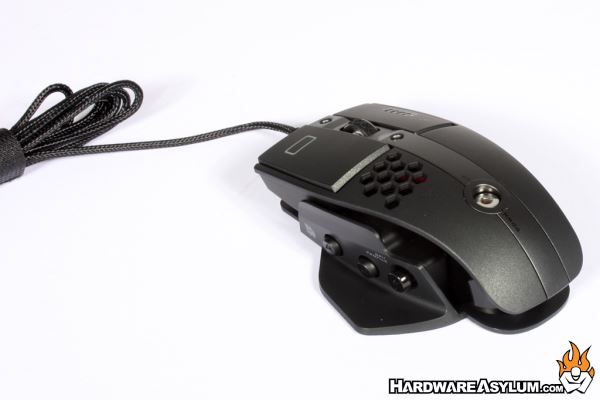 Construction consists of two distinct surfaces. The top surface allows for airflow and lighting effects to show through the hexagonal venting and out the sides. The bottom sits on a slightly larger ergonomic base plate design. Despite the larger footprint the overall weight has gone down too. The sleek, long profile lends itself best to a Palm grip with the long buttons to accommodate different finger lengths.
The redesign addresses my biggest complaint with the first design right up front. Thermaltake has added a small platform on each side to support your thumb and pinky finger comfortably. This support makes a dramatic difference over a long gaming session for a palm grip or larger hand. The end result is more comfort and control!
There are three controls on the left side with the first two acting as programmable thumb buttons. The back button is actually a 5 axis button used to switch profiles by default. A simple press one way changes color and the other will change your DPI through one of your profiles.
The front hasn't changes as much with the two oversized buttons now featuring Omron switches rated at 50 million cycles. A led indicator on the right displays which of the four profiles you are in. The square on the left button lights up nicely accenting your primary key. The rubber accented mouse wheel is comfortable and provides a nice level of feedback though no tilt function is offered.
The core of the new Level 10M Advanced is an ARM based 32 bit micro controller with 64KB of flash memory to store customization on the go. This processor supports the Avago 9800 Laser Sensor up to an incredible 16000 DPI. In practice It is hard to see anyone using that level of sensitivity and I found 3200 or so most comfortable out of the box with 5000 as a sensible top end. The Level 10M Advanced skates on four large feet reducing friction and stability.