The Ballistix Sport 3200Mhz Crazy Overclocking Adventure
Author:

Dennis Garcia
Published:
Thursday, February 21, 2019

Introduction
Before CES 2019 I was asked to test two dual channel Ballistix memory kits and I jumped at the chance. These modules are very similar to the Ballistix Sport AT ASUS TUF Gaming Alliance modules I tested back in July. If you haven't seen that review yet I'd urge you to check it out and pick yourself up a kit if you already have a TUF Gaming Alliance motherboard.
The kits I tested are both dual channel with identical frequency and memory timings with the only major difference being capacity. One is 16GB while the other is 32GB.
Ballistix was curious to know what I thought and if I'd overclock them a bit. Given that I do love overclocking I accepted the challenge and wanted to share my results.
Before we begin
I decided to take a different approach to testing these modules that didn't follow the normal "template" I use in my reviews. Normally I am careful to set a performance baseline and then match that with reference products so my readers and compare and make a decision for themselves. I also take things one step further and including some overclocking results. This is where I can talk about the overclocking process and how receptive the product was to performance enhancements. With memory this process can be hit or miss and sometimes comes down to how much time I want to spend "tuning"
Since the main goal was to overclock these modules I decided to break out the "medium guns" and put everything under my Single Stage Phase chiller. You know, just to show how serious I was.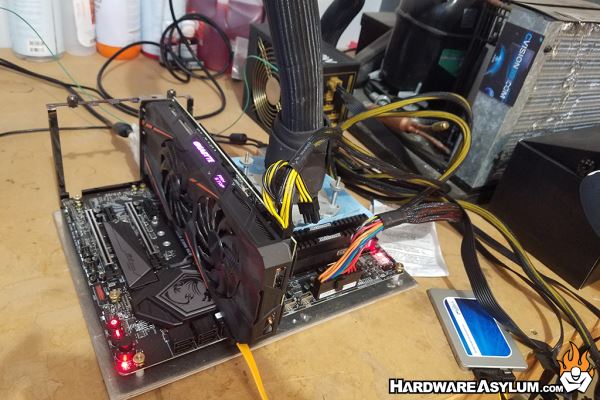 By going cold I could ensure that the processor wouldn't be a problem and allowed me to push things a little further.
The System as it was Tested
Intel Core i7 8700K
MSI MEG Z390 ACE
Gigabyte GTX 1060 D5
Cooler Master Silent Pro Gold 1200w PSU
Crucial MX500 SSD
For these tests I was focused on overclocking and divided my efforts into three categories with the goal of monitoring frequency and total speed. The following were conducted in descending order and done for each kit.
Frequency adjustments only (no voltage, no timings)
Timing adjustments (no voltage)
Voltage adjustments (modules didn't respond to voltage adjustments)
CPU Overclocked to 5Ghz @ 1.35v / Uncore @ 4.8Ghz / BCLK @ 100Mhz
Memory was configured with the XMP profile as a baseline. Timing and voltage adjustments were overlaid on these settings to achieve the final result. I did run the modules manually without the XMP profile and was able to get the same results and performance numbers.
Btw, My CPU will run these speeds on water so adding the Phase was to make sure the CPU wouldn't be a limiting factor.