Crucial Ballistix Tactical Tracer RGB DDR4 2666Mhz Quad Channel Memory Review
Author:

Dennis Garcia
Published:
Monday, May 07, 2018

Crucial Ballistix Tactical Tracer Memory Overview
The heatspreader found on the Tactical Tracer modules is a black anodized part that wraps around the module with some decorative holes where it makes contact with the light bar.
Graphics are screen printed to the module with the only raised area being the embossed sections that help to stiffen the heatspreader. The heatspreaders are then bonded to the memory module and work extremely well at absorbing excess heat especially when overclocking.
Module height has always been a concern when it comes to system builds since heatsink manufactures often build their designs based on JEDEC module standards. This is great when using vanilla memory modules but, once you switch to performance memory your cooling method does becomes a concern.
In terms of overall height the module measures a little over 1.75 inches tall which makes them the same as the older TridentX module at its highest point. Given that most high-end builds have switched to AIO cooling overall module height is less of a concern giving rise to style over size.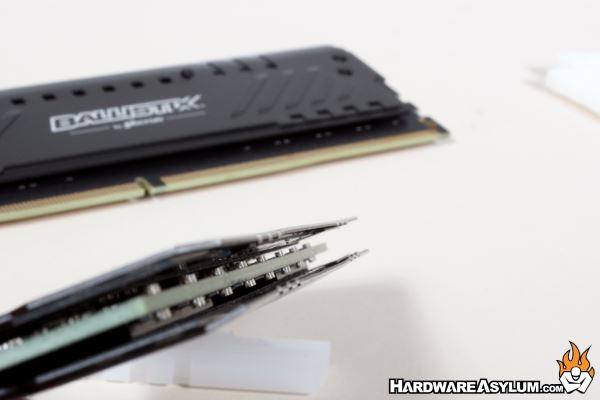 Each Tracer module features 16 RGB LEDs that are individually addressable in two LED pairs. This equates to a single LED strip worth of light and compatible with the major motherboard lighting systems and the M.O.D. software available from Crucial. This gives the end user plenty of different lighting combinations and full support for systems that may not have onboard lighting effects.
A major feature of the Ballistix Tactical Tracer is the ability to support custom 3d printed light bars. The factory light bar is a translucent white with the Ballistix logo printed across the top. It is held in place with two push pins allowing you to remove and replace the light bar with anything you like. If you are into 3d printing Crucial has several light bar designs available on their website including the one featured here with the Ballistix logo.