Crucial Ballistix Tactical Tracer RGB DDR4 2666Mhz Quad Channel Memory Review
Author:

Dennis Garcia
Published:
Monday, May 07, 2018

Introduction
For years I have spoken highly of Crucial as one of the silent innovators in the PC component world. They specialize in memory and storage solutions and many of the products they release slide under PC enthusiast radar for various reasons. It is no secret that Crucial memory isn't the fastest memory on the market and often times not the cheapest either. However being part of the larger Micron ecosystem affords them the resources to build some of the most compatible modules you can buy.
In this review I'll be going over the new Crucial Ballistix Tactical Tracer memory (BLT4K8G4D26BFT4K). This is a quad channel kit rated at DDR4-2666Mhz with latencies of CL16 with a respectable 1.2v. At launch these modules will be available in two speeds, 2666Mhz and 3000Mhz and module densities of 8GB and 16GB. What makes these modules truly unique is the strip of 16 LEDs that turn a standard memory module into an RGB lighted one.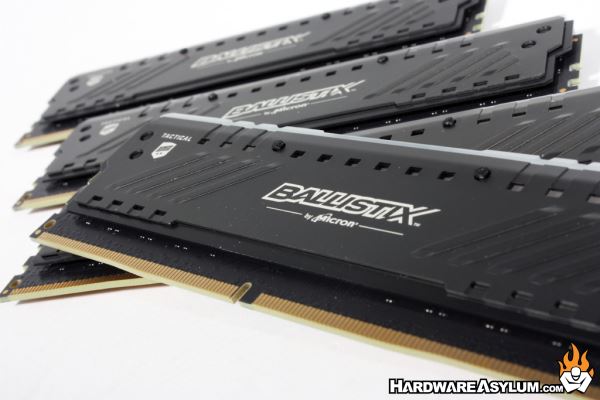 Crucial is no stranger to LED lighting effects. In the early days, and by early I mean DDR1 days with the Pentium 4, Althon XP and the famed NVIDIA nForce chipset that dominated the overclocking scene. During this time Crucial launched their Ballistix line of gaming memory which included the famed Ballistix Tracer.
Tracer modules featured LEDs across the top of the module that would react to system activity. During a gaming session the lights would go crazy and virtually stop once the system was at rest. When DDR2 memory was released another line of Tracer memory modules were released and supporting the same activity LEDs. The modules were slightly faster supporting what made DDR2 what it needed to be. Sadly DDR3 sparked the end of hardware based activity LEDs, the extra circuits caused too much interference and didn't allow the modules to run the speeds required.
That didn't stop Crucial though. Being a pioneer they continued to add LEDs to their Tracer modules but transitioned from hardware based control to a software solution. This separated the memory module from the LEDs and allowed them to operate without compromising performance. Unfortunately, lighted memory modules fell out of popularity during the DDR3 days leaving Ballistix to be the only brand supporting it. Of course the recent RGB LED craze would change all of that and Ballistix would be there.