Crucial Ballistix Tactical Tracer RGB DDR4 2666Mhz Quad Channel Memory Review
Author:

Dennis Garcia
Published:
Monday, May 07, 2018

Benchmarks - Overclocked
As with all of our reviews, we pit the default speed system against the overclocked one in a head-to-head byte match. The only difference with memory reviews is that whenever possible the base system, CPU, Chipset etc.. are left at stock speeds which you can see in the Sandra CPU Tests. This leaves the only performance advantage being an increase in memory speed.
The effective overclock for these tests was pushing the modules up to 3000Mhz with a voltage bump from 1.2v to 1.35v. Memory timings did not change for this overclock and actually match the 3000Mhz version of these modules.
Tactical Tracer XMP 3000Mhz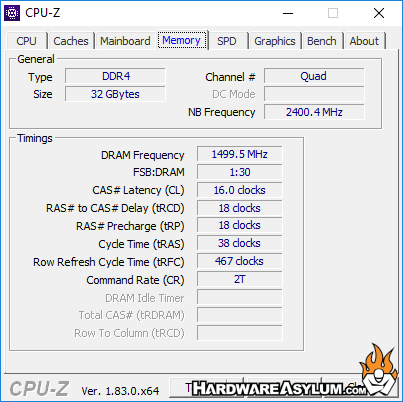 SiSoft Sandra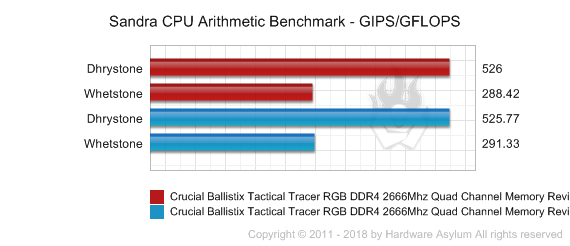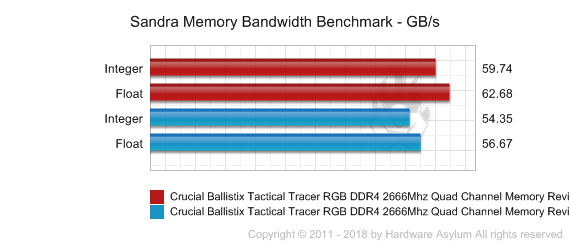 AIDA64 Extreme Edition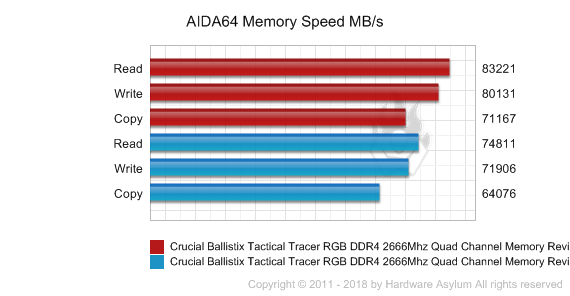 Unigine Heaven Benchmark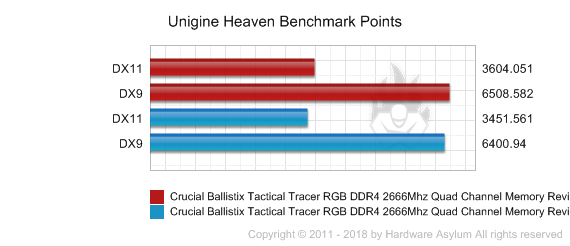 Futuremark PCMark 10

Overclocking Conclusion
Memory overclocking is usually an arduous task of trial and error though with the Ballistix Tactical Tracer it was simply a matter of setting XMP, overriding the voltage setting and changing the memory multiplier.
With some work I believe these modules could run faster with timing adjustments however, for this test I wanted to show the easiest overclock possiable. Not only did I match the faster, and more expensive, version of the Tactical Tracer but did so it in a matter of seconds. #funstuff