Crucial Memory 4800Mhz DDR5 Memory Review
Author:

Dennis Garcia
Published:
Thursday, January 6, 2022

Conclusion
When I first opened the Crucial DDR5 memory package I was honestly shocked at seeing totally naked memory modules. I knew that all memory was qualified without any heat spreader and that most heat spreaders are cheaply manufactured stamped metal bits but, they have become so common place it is odd to find a module without one.
Despite this I am actually glad that my first DDR5 memory review is this module as it gives you a unique look at what goes into making DDR5 what it is. These modules are 16GB per module with a total capacity of 32GB. The module itself is single sided indicating the actual chip density and, as we know higher density chips typically translate into better memory performance.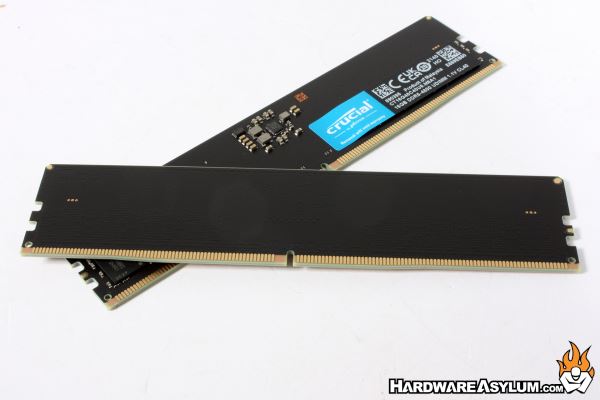 In the center of the module, you'll find the supporting circuitry and the likely location of the on-module voltage regulation and PMIC. Of course, most of these components are hidden behind a fancy heat spreader that many other memory makers would make you believe is 100% required for any performance application. During my benchmarks and overclocking tests there was no indication that these modules needed to be cooled or in fact that anything on the module got hot. The prime candidate would be the voltage regulator which remained at room temperature the entire time.
Sadly, there are no fancy RGB lights and the entire DDR5 memory options are limited to 4800Mhz. This is not an issue but does reaffirm that these modules may not appeal to system builders who are looking to make a statement but, rather everyone else who is looking for a reliable and extremely stable product that can unlock the power of their systems with excellent right-out-of-the-box memory performance.
Good Things
Legendary Crucial Compatibility
Great Performance
Limited to 4800Mhz
Quad Channel Performance
Bad Things
Hardware Asylum Rating
Crucial Memory 4800Mhz DDR5 Memory Review
Recommend
https://www.hardwareasylum.com