Corsair Dominator Platinum 2133Mhz Quad Channel Memory Review
Author:

Dennis Garcia
Published:
Monday, October 08, 2012

Conclusion
When building a high performance system the components you choose can often be a limiting factor either in price or performance. Luckily memory manufactures have gotten really good at creating specialized memory kits to help unleash the Ninja within. In this review we looked at a quad channel DDR3 memory kit from Corsair called the Dominator Platinum. These modules were created especially for the demands of the new "Bridge" processors including LGA2011 and LGA1155.

Despite the namesake the Dominator Platinum look nothing like the previous Dominator GT modules but share many of the same features including a top mounted heatsink, extra tall heat spreaders and DHX technology to improve cooling by giving the module two cooling paths. In our testing the heatspreaders worked extremely well and were warm to the touch under normal operation. Adding a fan did help to cool the modules proving to us that the DHX technology works.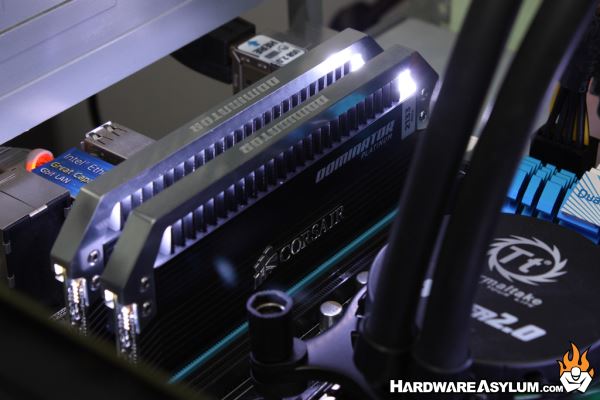 A new feature found on the Dominator Platinum is a subtle downwash lighting effect that will highlight the cooling fins and still remain contained under the heat shield. The default color is white but additional colors are available to match your color scheme.

Despite the CAS9 rating we did have good success overclocking these modules and saw stable speeds at 2240Mhz without any voltage adjustments. These modules did respond well to timing adjustments allowing us to run the modules at CAS8, provided the voltage was increased to 1.65v. Sadly we couldn't run these at a 24x memory multiplier with our particular processor.

As a general rule you will see a significant performance increase whenever you can run your memory clock above the default 16x multiplier setting and is exactly what you will get from these modules. Corsair Dominator Platinum modules are available in a variety of speeds ranging from 1866Mhz to 2666Mhz. Timings and Kit Size vary so be sure to pick the proper modules for your particular system.

Good Things
High Speed Memory Modules
Solid Heatspreader
"Bridge" Specific Memory
Well Matched Modules (CL9 x 16GB)
Subtle Lighting Effects
Corsair Link
Eaxy to Install
Bad Things
Higher Latency
Ninjalane Rating