Patriot Viper Steel SODIMM 32GB 3000Mhz Performance Memory Review
Author:

Dennis Garcia
Published:
Friday, August 7, 2020

Introduction
There is a battle in the computer hardware world claiming that portable computers are just as good as desktops. This statement has been one of the driving factors behind the rise of the mobile device and prevalence of desktop replacement or workstation class portable computers. On the surface they look to be pretty powerful, the CPUs are based on generations and often contain the same amount of RAM however, people often forget that portable computers are designed for power efficiency first and performance second.
In this review we will be looking at the Patriot Viper Steel SODIMM performance memory module. This particular module is clocked in at 3000Mhz and has a 32GB total capacity.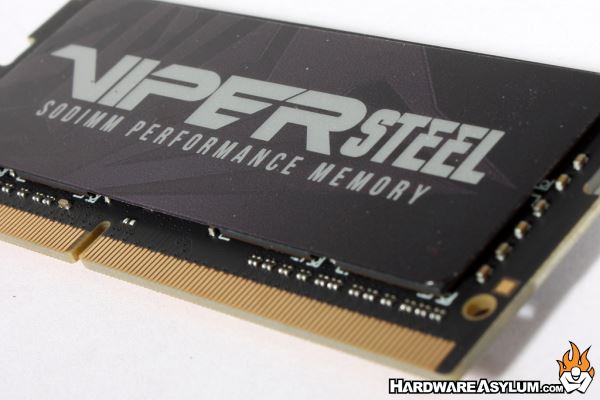 Small Outline Dual In-Line Memory Module or SODIMM is a small form factor memory module designed for portable computers allowing those systems to have a configurable level of system memory that will not take up to much space or draw too much power. There are fewer data paths on a SODIMM module so generally speaking they cannot process data at the same rate as a standard DIMM module.
Due to the nature of the SODIMM module it doesn't come with a heatspreader but feature a fancy sticker to give it that appearance. Under the sticker you'll find a total of 16 BGA memory chips in two rows and four columns populating both sides of the module.
When compared to a standard DDR4 memory module the SODIMM is clearly more compact and on a mobile platform that is most important.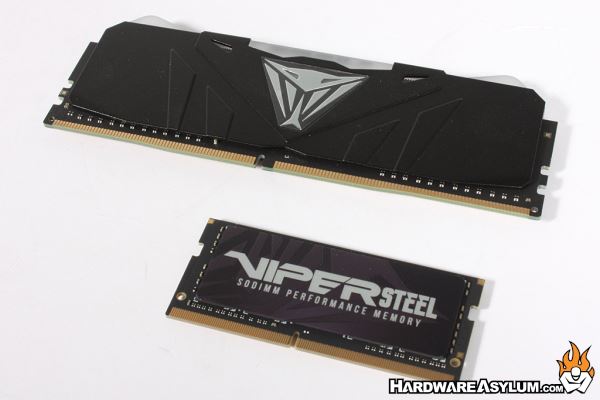 For the hardware enthusiast settling for the basics will not do and is why the Patriot Viper Steel Performance Memory Module was created. The 32GB 3000Mhz module featured in this review comes with two XMP profiles. Both are configured for 3000Mhz operation but come with different timings for different platforms.
XMP1: 18-22-22-43 @ 3000Mhz
XMP2: 18-20-20-43 @ 3000Mhz
Default: 19-19-19-43 @ 2666Mhz
For more information be sure to check out the Viper Steel page on the Patriot website.