Patriot Viper White LED 3200Mhz Dual Channel Memory Review
Author:

Dennis Garcia
Published:
Monday, January 08, 2018

Introduction
A modern gaming PC is a delicate combination of high-end components coupled with large windowed cases and tempered glass side panels. These builds are often then accented with well-placed lighting with LEDs on all of the major components. Video card, motherboard, sound card these all feature LED lighting effects and really tie the system together.
In this review I'll be looking at the Patriot VIPER LED DDR4 performance memory kit P/N PVLW416Q3200C6K. This is a 16GB dual channel kit running at 3200Mhz with a CAS latency of 16. These modules feature a decorative aluminum heat spreader and come in a variety of speeds from 2400Mhz up to 3600Mhz. They are compatible with Intel 100/200/300 series chipsets and AMD 300 series motherboards for reliably fast performance.
The Patriot Viper LED memory kit(s) are also available in two different LED colors. Red LEDs are limited to 3000Mhz and typically have lower CAS latencies while the White LEDs, featured in this review, are faster with a slightly higher CAS latency. Latency is often tied to memory speed and can often indicate chip quality and overclocking potential if you find the right combination.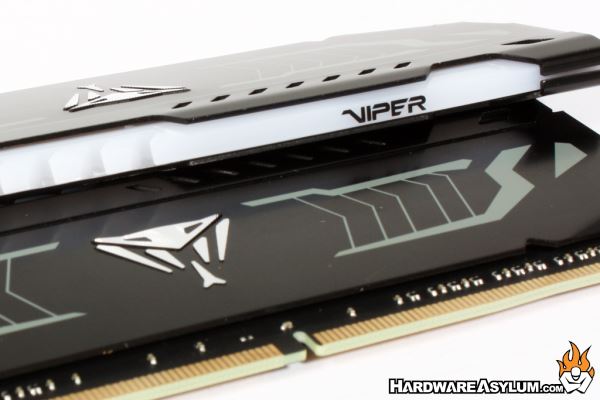 Ironically, enough memory modules were one of the first components to feature LED lighting effects. DDR1 modules featured activity LEDs across the top and some even allowed you to program custom messages into a digital display. You could find activity LEDs on DDR2 modules but those quickly went away as module makers started focusing on speed over fancy lighting effects. With the RGB LED movement in the enthusiast PC space there is a renewed interest in adding lights to memory modules again. The difference however, is these lights are no longer part of the memory module but rather run independently using an external lighting controller.
The Patriot VIPER LED modules are not RGB LEDs but rather light up when the system is powered on.