GSKill Ripjaws 4 DDR4 3000Mhz CL15 Quad Channel Memory Review
Author:

Dennis Garcia
Published:
Wednesday, July 22, 2015

Introduction
I have long been a fan of GSKill memory and let me be honest and say it isn't because I get review samples heck, my last GSKill review was back in 2012. No, I am a fan for two basic reasons. First, GSKill is one of the least expensive modules you can buy and second, of the modules you can buy GSKill always seems to have the fastest modules available either by speed or latency and if you are lucky you might even get the trifecta and have all three.
In this review I'll be going over the F4-3000C15Q-16GRR. This is a 16GB quad channel DDR4 memory kit running at 3000Mhz with a CAS latency of 15. In terms of overall spec the Ripjaws 4 in this review are pretty typical to other quad channel memory kits and sits in the middle when it comes to size/speed/latency.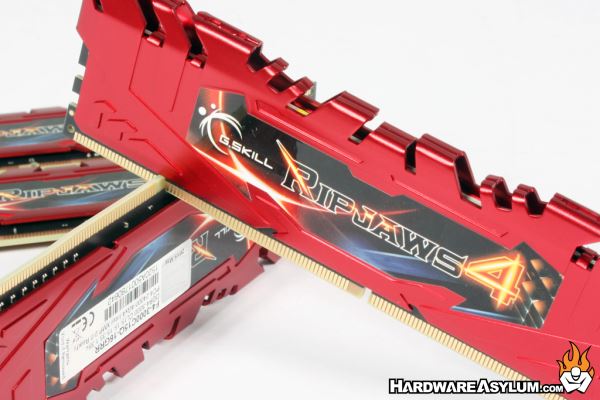 As the name suggests the Ripjaws 4 is a fourth generation memory module designed for the new Intel X99 processor platform. As of this review you are able to get Ripjaws 4 in a variety of different configurations from CL14 to 16 and with speeds ranging from the standard 2133Mhz all the way up to 3400Mhz. Of course picking a module can be a little daunting but with that many combinations you will be hard pressed to go away empty handed.
The New DDR4 Standard
As was many of you know Haswell-E brings with it a new DDR memory standard designed to handle the memory demands of modern systems and the new processor architecture. It brings with it the promise of higher memory speeds at the expense of higher latencies. This isn't uncommon and actually a product of going faster. Fortunately DDR4 has already proved it can be faster than DDR3 however many applications are not optimized to take advantage of the memory bandwidth which has created a major performance bottleneck.
Despite these "growing pains" DDR4 brings with it many benefits such as a higher default speed of 2133Mhz and lower operating voltages of 1.2v. The DDR4 architecture also supports higher chip densities which may not sound like much on the desktop but in server environments memory is what makes things go fast and the more you have the better. Sadly, these Ripjaws modules may not work U1 server configurations but they will look amazing in a high-end gaming rig surrounded by DIY watercooling loops and at least 2 video cards of your choice.