Cablemod CM-Series VS ModFlex Cable Kit Review
Author:

Darren McCain
Published:
Sunday, December 09, 2018

Introduction
It's no secret we are huge case mod fans here in the Asylum and the rebirth of windowed cases and RGB lighting tells me we are not alone. A modded case should be a source of pride if not a show piece on its own. After all a good enthusiast level build can be one of the most expensive investments we make!
We have been working on the View X31 build for over a year now and changed quite a bit since the initial article went live. With the fall overclocking season well under way, it was time to up our game again! I can't help but love the tempered glass look however, it has forced us to find creative ways to route and hide all those cables every time we made a change. Sadly, it has also become the most time consuming part of the build process.
Fortunately Cablemod has a solution. Why work so hard to hide the cables when you can simply hide them in plain sight!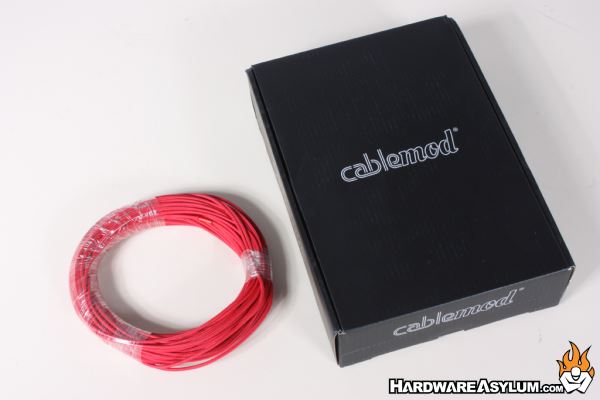 CableMod offers a full range of PC mods like sleeving kits, LED lighting and connectors for the DIY folks. You can even buy individual sleeved wires like the red cables shown here alongside the CM-Series VS ModFlex Kit.
Cable kits are probably the most accessible way to get started with any custom build and all you need is a modular PSU and the dream of individually sleeved wires. These kits come in several flavors and price points simply visit the CableMod site and peruse the long list of compatible kits based on your power supply.
The decision to replace our current Thermaltake RGB power supply with a Cooler Master V 1000 power supply was a key part of the decision. Not only did we get a nice power boost with a high current PSU but also moved to a fully modular cable design that was compatible with a new Cablemod CM-Series VS ModFlex Cable Kit.
The ModFlex kit does come with a 1 year warranty, for those of you concerned about that sort of thing..
Over the last year (and some change) the only real change we made to our custom painted Thermaltake View 31 case was the accents. The addition of a run of black lighting behind the vertical video card made the decision to go with pure white cables an easy one, though I confess Dennis did argue for an accent run in that pretty red cabling for a bit!
Cablemod offers cable kits with custom length cables. This ensures that the wires you get will match your build perfectly without any excess. We chose a full standard kit over a custom setup to make installation and upgrades easier. We probably change our build more than most and we didn't want to be limited when it comes time to freshen the mod and move into a different case.
You cannot ignore that many custom builds are "one off" meaning that cases change, colors change, hardware changes and while we try to keep some things when we upgrade there is a good chance that not everything will go. Because of this getting a custom fitted kit actually holds very little risk and is an pretty awesome option that Cablemod provides.
Changing out the cables is just as easy as you would think. Simply pull the old power supply and install only the cables you need for your new power supply. We did have plenty of length and the pure white cables looked great picking up both the glow of the black light and mimicking the RGB colors when we had the lights running in their full glory!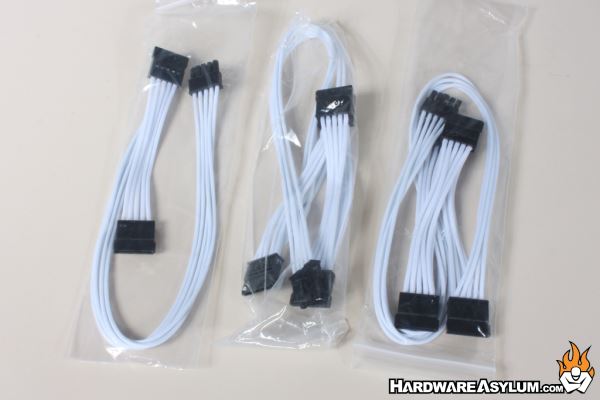 One thing I should mention is the option to add a set of cable combs. The CableMod cables are quite soft and flexible due to the premium cloth braded material and multi-strand copper centers. This is great for shaping your cables but did make them bit squirrely as we ran them through the rubber grommets in the View case.
Cable combs just make the cable runs cleaner and help highlight the main reason for getting individually sleeved cables in the first place. Not to mention PSU cables never run straight from plug to plug and will eventually cross over each other. The combs keep look and make the installation better.
Basically: Don't forget the combs!
It is definitely hard to get a good feel for just how much of a difference the CableMod cables can make in a custom build from a few pictures of cables. I know! Take a look at the video for a better look at the build and the cables.
Conclusion
It is hard to believe how many builds we have done over the years. Messing with heat shrink and trying to make aftermarket connectors fit is both painful and expensive. Fortunately CableMod takes all of that on for you. The quality of the custom cables is far superior to even the most expensive OEM parts and they look fantastic!
I would definitely consider a custom cable set over a full replacement kit for most builds as the extra cost is minimal compared to doing the sleeving yourself or having to live with black ribbon or bundled cables you get with your PSU.