Thermaltake View 31 Tempered Glass Edition Case
Author:

Dennis Garcia
Published:
Friday, July 28, 2017

Introduction
Computer case designs have come a long way since the days of the beige box and that is something we talk about quite often on the Hardware Asylum podcast. On that show we often bring up how trends in the case design world tend to change every few years mimicking what system builders and modders are doing in the real world. These days it is all about LED lights and making sure you can show off what is inside your case.
To help make that happen many cases have started coming equipped with LED lighting provisions and new tempered glass side panels that not only open up the entire side panel of a computer case but look great and resist scratches. These scratches are common to the plastic windows we normally see that cannot be easily removed..
In this review I'll be looking at the Thermaltake View 31 Tempered Glass Edition. This case is wider that most mid tower cases and features tempered glass side panels, both right and left sides, along with a clear plastic front panel. In a way I would call this a converted chassis given that the basic frame is a Core X31. To change the design Thermaltake has replaced the front panel with a shaded plastic unit and replaced the side panels with tempered glass.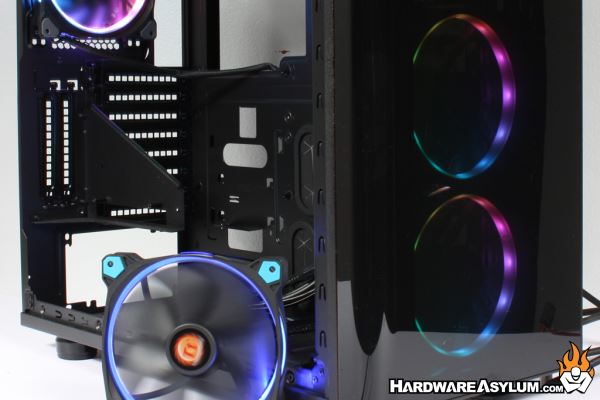 Most cases that come with tempered glass side panels have four posts which secure the glass to the chassis. This allows the case manufacturer to simply drill holes in the glass and rubber-mount them to the case to make installation quick and easy. Thermaltake has taken a slightly different approach and made it so that each side panel can be installed like a traditional metal panel. To accomplish this each end of the glass has a panel end attached allowing it to be installed like a metal side panel. This allows them to reuse the basic chassis and then retrofit tempered glass to it.
Specifications
Model View 31 TG
P/N CA-1H8-00M1WN-00
Case Type Mid Tower
Dimension (H x W x D) 497 x 250 x 511 mm / (19.5 x 9.8 x 20.1 inch)
Net Weight 9.9 kg / 21.8 lb
Side Panel 4mm Tempered Glass x 2 (Left & Right)
Color Exterior & Interior : Black
Material SPCC
Cooling System
- Front 140 x 140 x 25 mm Riing LED Blue fan (1400rpm, 28dBA)
- Rear 140 x 140 x 25 mm Riing LED Blue fan (1400rpm, 28dBA)
Drive Bays 3 x 3.5" or 2.5" (HDD Cage)
Expansion Slots 8 + 2
Motherboards Mini ITX / Micro ATX / ATX
I/O Ports USB 3.0 x 2, USB 2.0 x 2, HD Audio x 1
PSU Standard PS2 PSU
Fan Support
- Front 3 x 120mm / 2 x 140mm / 1 x 200mm
- Top 3 x 120mm / 3 x 140mm / 2 x 200mm
- Rear 1 x 120mm / 1 x 140mm
- Bottom 2 x 120mm / 2 x 140mm
Radiator Support
- Front 1 x 360mm / 1 x 280mm
- Top 1 x 360mm / 1 x 280mm
- Rear 1 x 120mm / 1 x 140mm
- Bottom 1 x 120mm / 1 x 140mm
Clearance
- CPU cooler 180mm
- VGA length 278mm(with HDD rack) / 420mm(without HDD rack)
- PSU length 180mm (With One Bottom Fan)