Thermaltake View 31 Tempered Glass Edition Case
Author:

Dennis Garcia
Published:
Friday, July 28, 2017

Case Cooling and RGB Riing Fans Install
When it comes to cooling the Thermaltake View 31 you have a variety of options to choose from. In stock form you will get a total of two 140mm Thermaltake Riing fans with blue LEDs, one intake and one exhaust. Per the usual the intake fans are located behind the front bezel and blow across the internal hard drive cage whereas the exhaust fan is located in the traditional location at the back of the case near the I/O panel.
All of the fans are slot mounted meaning that you can reposition them as needed which is nice for those radiators that might have an oversized tank or are just oddly sized in general.
RGB Riing Fans
There are two versions of the Thermaltake View 31 Tempered Glass Edition. The default configuration is shown above in this review and comes with two constant speed blue Riing fans. If you are into RGB lighting you can purchase the View 31 with the RGB Riing fan option OR you could install them yourself.
For this review I picked up a five pack of 140mm Riing RGB fans and installed them into the stock locations just to see what it would look like. The clear front bezel really gives this case a stealth look by hiding the Riing fans until they are powered on.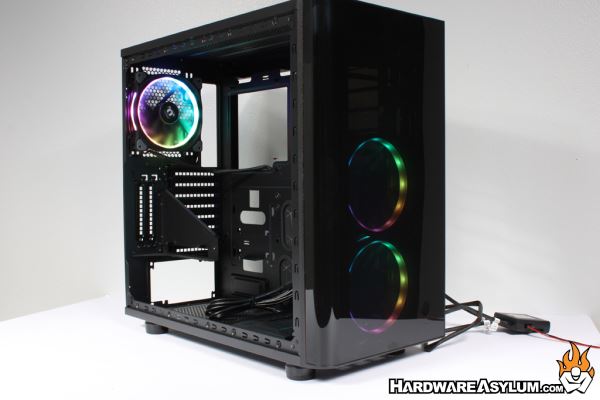 The RGB Riing fans option might be best for those of you who are planning on a DIY water loop in this case as they are better configured for higher pressure situations over the flow design that comes with the case.
Speaking of fans the View 31 supports fans up to 200mm along with a multitude of 120mm and 140mm case fans giving you the option for improved cooling and flexibility to configure any style of DIY watercooling loop. Every fan location is slotted allowing you some wiggle room to reposition fans and radiators as needed so you are not so limited by fan and radiator placement.