Thermaltake View 31 Tempered Glass Edition Case
Author:

Dennis Garcia
Published:
Friday, July 28, 2017

Looking inside the View 31
Beyond the tempered glass side panels you'll find that the Thermaltake View 31 TG is very open. I have already mentioned the vertical graphic card bracket. This bracket is positioned such that it will cover any and all expansion cards you have installed on the motherboard provided you are using a fairly high-end video card.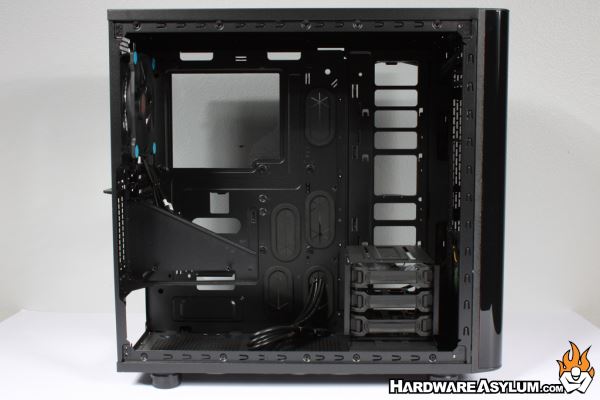 To the left is the motherboard location with an extremely large opening for motherboard access and quick heatsink swaps. You will find five cable routing holes with grommets to make them look pretty. An interesting thing to note is that one of the holes directly above the PSU location are technically under the expansion slots on a standard ATX motherboard reaffirming that MicroATX and MiniITX motherboards are a welcome addition.
Along the back edge you'll find additional placements for more internal drive locations along with the option of moving the existing rack anywhere you want vertically inside the case.
The area normally reserved for external drive bays is not completely open with only a 3 drive rack located at the bottom of the case.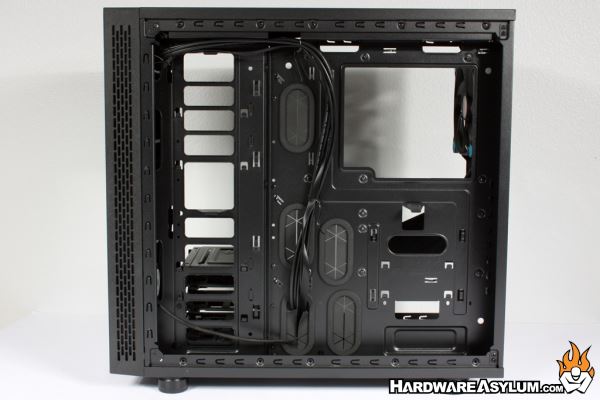 Flipping the case around you can get a good look at your cable routing options. Given the nature of tempered glass you won't get any extra room from embossed side panels so, you'll have to make due with what is provided. Here you'll find a rather deep space behind the motherboard tray for additional cables and extra hard drives. In fact you can install any drive on the back side of the motherboard tray by using the drive caddies from the existing drive rack.
Construction
Overall construction is quite good. The case feels solid and doesn't have much weight until you attach the side panels. All of the primary corners are double riveted for extra strength along with adequate embossing for extra rigidity.
Something to note is that the Thermaltake View 31 is designed to be modular which can be interpreted in a variety of ways. The obvious is that you can add and remove modules as needed however, aside from the internal drive rack there isn't much else you can remove. Another modular interpretation would be that parts can be interchanged such as the aforementioned drive rack, side panels and front bezel which have been retrofit from the original Core X31 design. The Core X31 featured a nicely vented front bezel which I think is great from a cooling standpoint.
Of course the final modular interpretation centers on watercooling and how this case was designed to handle all types of DIY watercooling gear, fans from 120mm to 200mm and up to four radiators.